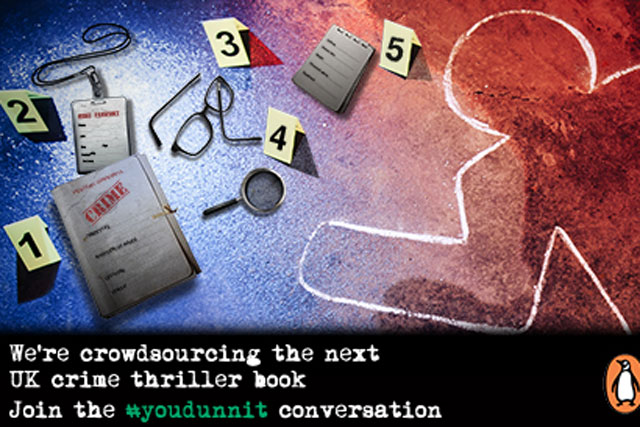 Debut novelist Alistair Gunn will also take part in the #Youdunnit social media campaign. Each author will be given a framework suggested by fans to produce three original stories, as part of the activity.
An ebook featuring the stories will be given away for free from mid-October. Fans will also be invited to suggest titles and cover designs.
Tim Broughton, Penguin marketing manager, said: "Three outstanding writing talents have been selected to contribute to the venture.
"It will be fascinating to see them apply their own individual writing styles to the narrative framework created by the crime fiction community online."
Specsavers is running the activity as part of a commitment to supporting literacy that it began three years ago.
A Specsavers spokeswoman said the strategy came about due to the tendency of people realising they needed glasses when straining to read.
The #youdunnit campaign was created by Manning Gottlieb OMD and launches today to support tonight's launch of a crime-themed TV book club on ITV3.
The Crime Thriller Book Club is sponsored by Specsavers and features six titles chosen by Amanda Ross of Cactus TV, who previously created The Richard & Judy Book Club.
French said "We're looking forward to seeing ideas from crime readers for the #Youdunnit experiment. To have much of the plotting taken out of our hands could be a blessing or a curse – time will tell"