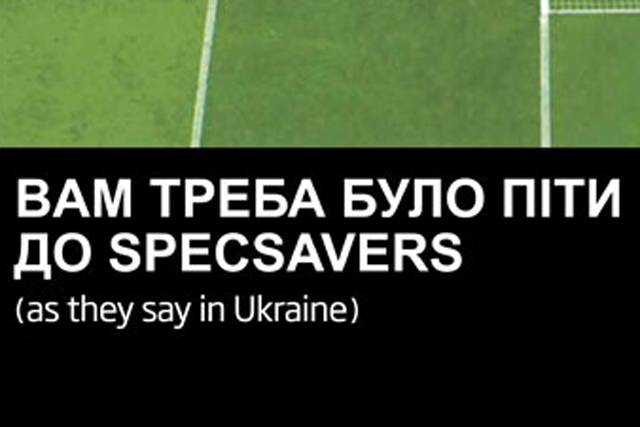 The ad by the optician shows an image of England player John Terry hooking the ball back over the goal line.
Beneath the image is a caption in Ukrainian, which translates as "should've gone to Specsavers."
"Should've gone to Specsavers" is Specsavers' strapline.
According to a Specsavers spokeswoman, there are several Ukrainian translations of the brand's strapline and it has chosen the most common one for the ad.
Richard Holmes, marketing director at Specsavers, said: "My creative team's reactions were even quicker than John Terry's and with our creative and marketing departments working closely together, we managed to get the ad over the line in time to hit the newsstands today (21 June).
The press ad is running today as a one-off in national titles, including the Daily Star, the Daily Express, The Independent, The Guardian, Daily Mirror, The Times, the Daily Mail and The Daily Telegraph.
The ad was created in-house and MEC bought the media for the campaign.
England's victory over hosts Ukraine in their final group game of the Uefa Euro 2012 tournament attracted a peak audience of 18.5 million viewers on ITV1, which was the highest audience for any channel so far this year.
Paddy Power poked fun at the traditional Ukrainian clay pipe in an ad aired during the match.
Follow Sarah Shearman on Twitter @Shearmans