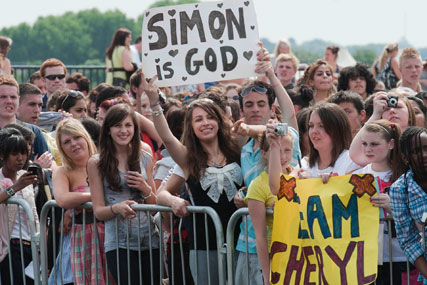 With 'The X Factor' already in full swing, data from Kantar Media's British TGI study reveals that approaching a third of British adults choose to watch Cowell, Cheryl and Co.
They are (predictably) a predominantly young group, being 28% more likely than the average adult to be aged 15-34, but they are also a high-value one, as over 300,000 of them have a personal income in excess of £50k.
Their commercial value is enhanced by the fact that they are 40% more likely to be in the 'Playschool Parent' TGI Lifestage group and 25% more likely to be a 'Primary School Parent', meaning they are spending more money on a variety of different things such as toys and groceries. Indeed, they spend more than twice as much as the average adult on their weekly grocery shopping.
'X Factor' fans are a voraciously materialistic group. They are significantly more likely to buy new brands on the market and to feel tempted to buy products they have seen advertised. This makes them a very attractive group to advertisers, particularly as they are also more likely to be undeterred about using their credit cards to pay for the goods they crave.
As well as being influenced by advertising, they are also influenced by TV programme sponsorship, and over two million of them have 'X Factor' sponsor Talk Talk as their landline phone supplier.
Marketers looking to reach them also need to bear in mind their general approach to life relative to the general population in order to target them in the most appropriate fashion.
They tend to be career-oriented and more likely to want to get to the very top in their chosen profession. As well as working hard, they play equally hard and are more likely to really enjoy going out to get drunk, and to eat takeaway food at least once a week.
In terms of the most efficient communication channels to reach them, 'X Factor' fans have a very high tendency to be among the heaviest consumers of TV and magazines. With regards to TV consumption, ITV1 and ITV2 both have a strong affinity with the group.
They are considerably more likely to usually watch reality TV shows, soaps and chat shows. Over a third of 'X Factor' fans use TV on demand facilities; they are 23% more likely than the average adult to access these services via their TV.
In terms of magazines, 'X Factor' fans are more likely to consume multiple titles across a month. As you would imagine, celebrity news and gossip articles are of particularly interest to the group. They are also considerably more likely than the average adult to buy their mags at the supermarket.
'X Factor' fans' media consumption habits
Heaviest 20% of consumers
% more/less likely than average adult
TV

+38%
Magazines
+20%

Internet
+11%

Cinema

+8%

Outdoor
-1%

Radio

-4%

Newspapers
-13%

Source: GB TGI 2010 Q4 – Base: All adults (aged 15+)
Russell Budden, associate director, Kantar Media
TGI is a continuous survey of consumer usage habits, lifestyles, media exposure and attitudes of GB adults aged 15+