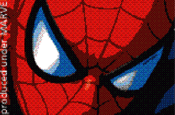 The ad, for onlinegamblerweb.com, appeared on another website, MacFormat, which has an average user age of 41.

The Advertising Standards Authority said that although the ad was unlikely to have reached many children, it should not be shown again.

Its ruling said: "We acknowledged that Spiderman appealed to some adults but considered that the depiction of the popular comic book character was likely to have particular appeal to children and young people, regardless of the context in which it appeared."

The ad was created by Future Publishing in partnership with the gambling operator Littlewoods Gaming.