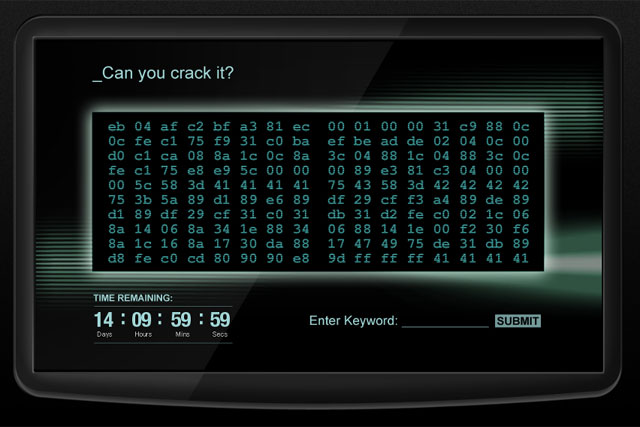 GCHQ, which works in partnership with MI5 and MI6, is looking for "cyber specialists" who have a keen interest in code breaking and ethical hacking.
The campaign, created with GCHQ's recruitment partner TMP Worldwide, seeds a message into social media channels, including blogs and forums, to attract people to crack a visual code at a dedicated website, www.canyoucrackit.co.uk.
People who engage with the site and its anonymous challenge will not know that GCHQ is its source, or that the purpose of the exercise is to find people suitable for a role at the organisation.
Once the code is cracked, the solution will be broadcast to designated online communities, which is intended to generate discussion about GCHQ and employment opportunities.
The body has traditionally recruited its specialists as graduates, but is now looking for candidates who may be "self-taught, due to the "threats to information and computer technology constantly evolving".
GCHQ is clear that anyone applying who has hacked illegally will not be eligible to continue in the recruitment process.
A spokesperson for GCHQ said: "The digital arena is fast-moving, and from a recruitment perspective, we acknowledge the need to engage with prospective candidates in new and innovative ways.
"With this marketing initiative, we hope to reach out to a broader audience, who may not be attracted to traditional advertising methods. We also hope that the code-breaking challenge will help increase awareness of GCHQ's mission and the important role it plays in safeguarding the nation."
Two years ago, GCHQ ran a recruitment campaign through the Xbox Live, the first time recruitment advertising had run on the device, in a bid to target 18- to 34-year-olds.
Follow Loulla-Mae Eleftheriou-Smith on Twitter @LoullaMae_ES