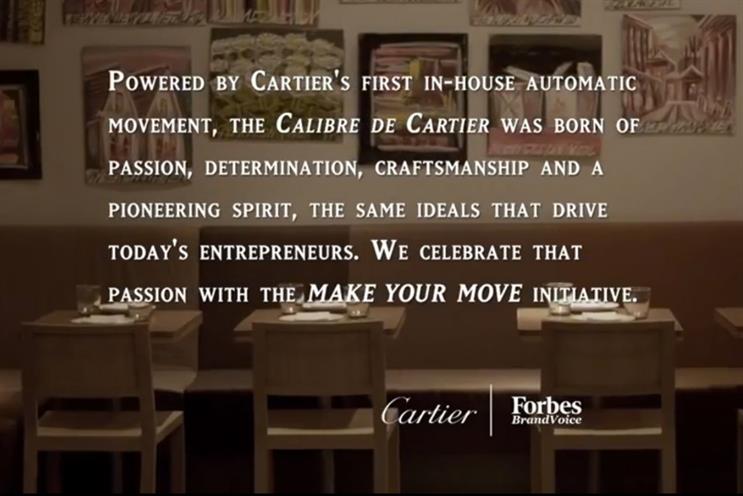 Many of the marketers we engage with at Forbes want to participate in branded content or "brand journalism" because they see that this type of content can really matter.
We don't need to try to argue that brand journalism is the same as traditional journalism – because it's not – but it can be effective and impactful in its own way.
Brands are already producing content that is of strong value to their audiences – especially those that can demonstrate unparalleled expertise on a specific topic.
And brands need to be able to understand and meet the agenda of their audiences – not create content that merely serves those within the brand bubble.
While we can be clear that brand journalism and traditional journalism are not the same, they are not as far removed as some might think. The central mission – to inform – remains the same. Just as a journalist can inform, so can a brand inform, offering insights or perspective. What's important is transparency – clear labelling – so that consumers understand the source of the content.
Transparency, along with a credible news environment, brand authority and scale, will be the foundation upon which brand journalism will continue to thrive. These are key elements that established media platforms are able to provide, which brands themselves are not able to build overnight.
Through our BrandVoice offering in Forbes magazine and on Forbes.com, for example, Forbes has established a definitive platform for thought leadership marketing. This platform harnesses social as a vehicle for sharing content. Many marketers and brands have attracted a significant audience with well-produced, relevant content.
Generally, we publish about 300 posts a day, of which about ten are from brands. Success is measured through a combination of engagement and audience metrics. Engagement metrics include page views, social actions, social referrals, search referrals and internal Forbes referrals. Some BrandVoice posts – all of which are clearly marked – drive more than 100,000 page views and frequently appear in our Most Popular module. Audience metrics point to industry, company size and other defining reader characteristics.
Last year, Forbes launched a new analytics suite designed to measure the impact of marketers' content and track how it performs on Forbes.com and across the social web. We have an executive board that has to agree that a brand is appropriate. And our guidelines are clear: brands are expected to use our BrandVoice platform to offer industry insights, solutions to problems or engaging stories, not pitch a product or service.
By jumping on timely trends, leveraging compelling headlines and, above all, delivering substantive, informative content, BrandVoice content can be very successful.
Journalists should not feel threatened by their brand counterparts. Nothing about thought-leadership marketing stops journalists from doing the job they have done for decades. Brands are also providing an array of new career opportunities for journalists, which isn't something that should be discounted.
Brand journalism isn't new, of course. Brands and journalists have been working side by side for more than a hundred years but, following the advent of digital publishing and social media, to continue working in silos doesn't make sense any more. You can't put the genie back in the bottle, so why try to?

Lewis D'Vorkin is the chief product officer at Forbes Media and appeared at the Festival of Media Global in Rome last month.