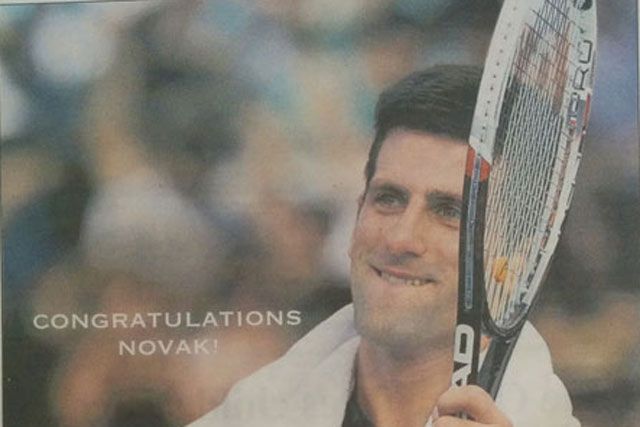 Adidas served up a quick congratulatory tweet following Djokovic's thrilling five-set victory over seven-time Wimbledon champion Roger Federer in yesterday's men's final.
The brand's tweet featured the slogan "no stopping novak" and the #smashthesilence hashtag, which the brand has been using as part of its wider Wimbledon social campaign.
He won't be beaten, he won't be broken. @DjokerNole, #Wimbledon 2014 champion. #SmashtheSilence pic.twitter.com/rtXefSO5cV

— adidas tennis (@adidastennis) July 6, 2014
The Adidas tweet was created by the brand's in-house team.
After Djokovic's victory yesterday, the clothing chain Uniqlo tweeted its congratulations to the Serbian tennis champion. Djokovic has been Uniqlo's global brand ambassador since 2012.
He's done it!!! @DjokerNole is the 2014 Wimbledon CHAMPION!! Congratulations from your UNIQLO family! #NoleFam #Wimbledon2014 #champion

— UNIQLO UK (@UNIQLO_UK) July 6, 2014
Seiko, the high-end watch brand, shows a photograph of Djokovic after winning the men's singles competition yesterday, with the copy: "Congratulations Novak!"