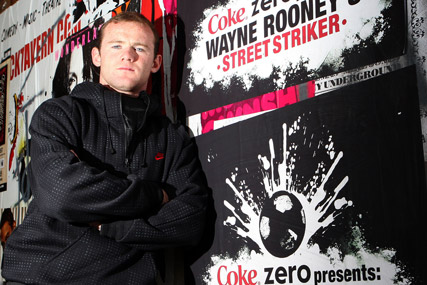 The past 12 months have been as tough for the sponsorship industry as for the England football team, although the former has managed to avoid becoming embroiled in scandal.
'From 2008 to 2009 the world was a scary place. In many ways it was about survival,' recalls Tim Crow, chief executive of Synergy. 'Over the past year the industry has steadily recovered as clients have got their nerve back.'
Crow's experience is shared by many of his peers, although the huge amounts of sponsorship cash circulating around the 2010 FIFA World Cup did help agencies to get back on their feet after the recession.
The event, which was held in Africa for the first time, dominated the sponsorship scene this year. The usual suspects ran grandiose global marketing campaigns, with Coca-Cola's 'Wavin' Flag' activity among the most prominent.
It was also the last international tournament in which the England team would be sponsored by Nationwide. Before the World Cup, The FA had indicated that it was on the hunt for a replacement, in the hope, according to industry sources, of securing a more lucrative deal. However, England's miserable performance on the pitch, combined with high-profile scandals involving some of its players has left the national team without a partner, months after Nationwide's sponsorship expired.
During the run-up to the event, John Terry was stripped of the England captaincy following revelations about his private life, while teammate Ashley Cole has also hit the headlines for the wrong reasons. Most recently, and perhaps more significantly, Wayne Rooney has been castigated in the press for alleged events in his private life. Rooney's personal sponsors - including Nike and Coca-Cola - have pledged to stand by the star, but the sheer number of scandals surrounding England squad members has undoubtedly made The FA's task more challenging.
Ultimately, however, it will find a brand prepared to pay handsomely for the England team sponsorship, because it offers unrivalled access to a huge fanbase. Furthermore, while the squad's standing is arguably at an all-time low, it takes only a few positive results to generate a fresh wave of optimism. Indeed, in spite of a disappointing run of results in South Africa, the England players were supported by a crowd of more than 70,000 for a friendly match against Hungary in August. Few teams can boast such loyalty.
Tarnished image
The year's most dramatic fall from grace, however, has been that of Tiger Woods. His image as a clean-living family man was shattered overnight when stories of multiple affairs emerged earlier this year.
Many of his sponsors simply walked away and those that chose to stand by him have had to live not only with the stars' tarnished image, but also the fact that his golf game has suffered; Woods made it onto the US Ryder Cup team this year only as a 'wild-card' selection.
Nigel Currie, director at Brand Rapport, argues that golf has lacked characters of late, and as a sport had become overly reliant on Woods' appeal and global marketability. This may leave the way open for another player, perhaps an up-and-coming British talent, to emerge as a fresh sponsors' favourite.
Scandal seems to have dogged almost every area of sport. Allegations (since shown to be unfounded) that former world champion John Higgins threw matches for money sent snooker into a tailspin. Meanwhile, the row over claims of spot-fixing by Pakistan's cricket players rumbles on, casting a pall over the game.
Personal peccadilloes are one thing, but suspicions that corruption has crept into the way a sport is played are much more serious, and brands will be unwilling to associate themselves with an activity that is seen as dishonest. 'Ninety per cent of the sponsorship market is driven by sport, so it's important people believe what they are seeing,' warns Currie. 'Wherever betting is involved, there are always question marks. I don't think it will lead to people abandoning sport in their droves but it has to be nipped in the bud and governing bodies need to be seen to be taking action.'
Despite the sour taste left by these problems, to focus solely on the negative is to forget that sports sponsorship remains one of marketing's most vibrant sectors.
Steve Martin, chief executive of M&C Saatchi Sport & Entertainment, argues that, although the buzz of the World Cup has subsided, there is still much to look forward to. 'It will be busy behind the scenes ahead of 2012 when the (Olympics) circus comes to town. The planning period going into events is getting longer,' he says, citing the example of Coca-Cola's World Cup campaign, which his agency set up 18 months before the tournament started.
The biggest global sporting event in 2011 will be the Rugby Union World Cup, but domestically the tournament will be a challenge for sponsors; it is being hosted by New Zealand, which means matches will take place in the early hours of the morning in the UK. This will make the anticipation surrounding London 2012 all the more acute. Having advised clients on Olympic opportunities and brokered deals on their behalf over the past few years, sponsorship agencies will now be switching their focus to activation over the next 18 months.
While some official partners, such as Lloyds TSB and EDF, have been busy promoting their Olympic ties for some time, most sponsors have yet to engage fully with consumers on this basis. Last month, second-tier partner Cadbury launched its 'Spots vs. Stripes' campaign, which aims to promote fun competition across the UK; others will soon follow.
The London Olympics has now secured a broad array of partners, leading industry experts to predict that brands without official standing will seek other ways to associate themselves with the Games.
Andrew White, chief executive at WSM, says that some advertisers are now looking to work with the governing bodies of particular sports. For example, while EDF is an official partner of the London Olympics, rival British Gas is sponsoring British Swimming. Likewise, technology brand Siemens is a performance partner for British Rowing, allowing it to benefit from an association with some of Team GB's most successful competitors.
Global events
For many brands, the 2012 ship has sailed and they have now turned their focus to the raft of world-class events to be staged in the UK over the next decade. After the Olympics will come the Rugby League World Cup (2013), the Glasgow Commonwealth Games (2014), the Rugby Union World Cup (2015) and possibly the FIFA World Cup in 2018.
The UK also plays host each year to a major tennis and golf tournament, as well as a Formula One Grand Prix, while the Barclays Premiership claims to be the world's most-popular domestic football league. However, brands here may never again enjoy so many global sporting events within easy reach.
'We are entering an era where the British public will be spoiled for sporting events. I can see a situation in 10 years' time where it may be a struggle,' says Currie. 'We need to be more sharing about our sport. There has probably been more change in the past 10 to 15 years than in the preceding 100, and that's only going to speed up as more countries build facilities and sports programmes. Facilities used to be the major hindrance to overseas development and hosting of sports events. We shouldn't take it for granted that events will always be hosted here.'
This period of intense activity in the sporting calendar will also create challenges for brands and agencies. According to some, both must act to enhance their capacity to measure effectiveness.
'The world has changed. The industry needs to do better at becoming more results-oriented and prove its worth,' says Crow. 'Sponsorship has a lot going for it, and is the perfect marketing medium for the modern world where brands need to engage, but brands don't spend enough on research, and stakeholders aren't focused enough on results. It is something the industry needs to get better at.'
For others, such as Andy Westlake, managing partner at Fast Track, the focus is on expansion. He points out that, while sports sponsorship has undergone a period of consolidation in the UK, his agency has actively been seeking growth opportunities overseas. 'International expansion has been ongoing. We opened an office in Abu Dhabi in 2008 with two people, and have 25 there now. This week we have opened a New Zealand office and we are looking at South-East Asia.'
As the industry continues to prove itself as a valuable platform for marketing, there can be little doubt that the sponsorship industry has reason to be cheerful. The next decade will present brand directors with an unprecedented range of global opportunities related to events being hosted in the UK. However this potential goldrush will materialise only if agencies can rise above the scandals and convince savvy marketing directors of the long-term benefits sponsorship can bring.
INSIGHT: TIGER WOODS UNDER PAR
Once one of the world's most marketable sporting figures, Woods' reputation came crashing down when allegations of serial infidelity emerged in the press this year.
Last December 2009, it was reported that he had become the first sportsman to earn $1bn from prize money and sponsorship. Indeed, Woods has delivered fantastic levels of exposure to his sponsors over the years, but his spectacular fall from grace demonstrates the risk brands take when they choose to align themselves with a single individual.
Several big sponsors simply walked away, including Gatorade, which had signed a deal with the golfer in 2007 worth an estimated $100m. AT&T and Accenture also ditched Woods while others, such as Gillette and watchmaker Tag Heuer, have scaled down his appearance in their marketing campaigns. EA Sports stood by Woods but its Tiger Woods 11 game for Nintendo Wii has not sold as well as previous editions, and the company president, Peter Moore, has publicly stated his disappointment.
League table notes:

Fast Track
Founded 1998. Subsidiary Chime Communications. Chief executive Jon Ridgeon. 20% PR, 40% consultancy/rights negotiation, 40% event management. Clients include GlaxoSmithKline, HSBC, UK Athletics. Member ESA. www.fasttrackagency.com
Ed Coms
Founded 1995. Privately owned. Managing director Martin Finn. 5% consultancy/rights negotiation, 20% sponsorship integration, 5% event management, 40% programme creation, 30% research/evaluation. Clients include BP, RBS Group, Google. Member ESA. www.edcoms.com
MEC Access
Founded 1998. Subsidiary Mediaedge:cia. Managing director Tove Okunniwa. 5% PR, 30% consultancy/rights negotiation, 50% sponsorship integration, 15% event management. Clients include Danone Waters UK, Amlin, Sony Ericsson. Member ESA. www.mecaccess.com
Synergy Sponsorship
Founded 1984. Subsidiary The Engine Group. Chief executive Tim Crow. 27% PR, 36% consultancy/rights negotiation, 10% sponsorship integration, 27% event management. Clients include The Coca Cola Company, Betfair, BMW. www.synergy-sponsorship.com
Brand Rapport
Founded 1982. Subsidiary QobliQ. Managing director Andrew Dwyer. 25% PR, 25% consultancy/rights negotiation, 35% sponsorship integration, 15% event management. Clients include Vodafone, E.ON, Barclays. Member ESA. www.brand-rapport.com
Experience Worldwide
Founded 1997. Subisdiary Omnicom Group. Managing director Clare Foot. 12% consultancy/rights negotiation, 47% sponsorship integration, 29% event management, 12% other. Clients include SAP, Sony PlayStation, RIM/Blackberry. Member ESA. www.experience-worldwide.com
M&C Saatchi Sport and Entertainment
Founded 1997. Subsidiary M&C Saatchi. Chief executive Steve Martin. 50% PR, 10% consultancy/rights negotiation, 15% sponsorship integration, 15% event management, 10% content creation. Clients include Reebok, Orange, The Coca Cola Company. Member ESA. www.mcsaatchi.com/sportandentertainment
WSM Sponsorship
Founded 1999. Subsidiary WSM. Chief executive Andrew White. 15% PR, 26% consultancy/rights negotiation, 14% sponsorship integration, 45% events management. Clients include Aberdeen Asset Management, Brit Insurance, MasterCard. Member ESA. www.wsmsponsorship.com
Limelight
Founded 1999. Subsidiary Limelight Projects Group. Chief executive Craig Dews. 15% consultancy/rights negotiation, 15% sponsorship integration, 70% event management. Clients include Nike, Sky, JP Morgan. www.limelightsports.com
23red
Founded 2000. Privately owned. Managing director Tom Huxtable. 6% consultancy/rights negotiation, 77% sponsorship integration, 17% event management. Clients include Barcardi Martini, Department of Health, Sit Up TV. www.23red.com
Four Sports, Arts and Sponsorship
Founded 2005. Privately owned. Chief executive Alun James. 55% PR, 20% consultancy/rights negotiation, 18% sponsorship integration, 7% event management. Clients include HSBC, Greene King, Brawn GP. Member ESA. www.fourcommunications.com
Capitalize
Founded 1996. Privately owned. Chief executive Richard Moore. 35% PR, 10% consultancy/rights negotiation, 25% sponsorship integration, 30% event management. Clients include Puma, Standard Chartered Bank, Bacardi. Member ESA. www.capitalize.co.uk
Generate Sponsorship
Founded 2003. Privately owned. Managing partners Rupert Pratt, Andy Muggleton. 25% PR, 20% consultancy/rights negotiation, 25% sponsorship integration, 10% event management, 20% sales. Clients include The Co-operative Group, QBE Insurance, Aon. Member ESA. www.generatesponsorship.com
Education Connections
Founded 2001. Privately owned. Managing director Alexandra Leask. 100% sponsorship integration. Clients include British Gas, 3M UK, COI. www.educationconnections.co.uk
Space
Founded 2003. Privately owned. Managing partner David Atkinson. 10% PR, 5% consultancy/rights negotiation, 60% sponsorship integration, 25% event management. Clients include Samsung, Heineken UK, The Telegraph. Member ESA. www.agencyspace.co.uk

Source: Marketing Sponsorship Leagues 2010
METHODOLOGY AND NOTES
Marketing invited sponsorship agencies from the UK to submit details for the league table. Any agencies not included either missed the deadline for entries or declines to participate. All financial information has been verified by participating agencies.
Marketing takes care to publish accurate data, but cannot be held responsible for errors or omissions.