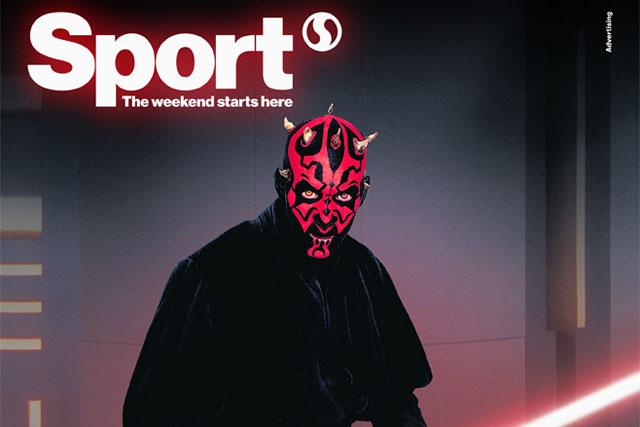 As well as a cover wrap on all copies of the UTV Media-owned free magazine tomorrow (10 February), a limited number of magazines will designed to look like Jedi light sabres, and will be handed out by 'Star Wars'-branded staff in the West End.
As part of the deal, UTV Media's sibling TalkSport station will give away 'Star Wars' prizes all day tomorrow, while the day's on-air show credits will be 'Star Wars'-related and use the film series' theme music.
TalkSport will also extend the activity through social media and will ask its 144,000 Twitter followers for suggestions of 'Star Wars'-themed footballers, through a bespoke hashtag.
Sam Fowler, creative solutions executive, Vizeum, said: "Working with TalkSport and Sport magazine offered us the perfect opportunity to reach a large father-and-son audience with a selection of engaging and bespoke activation ideas.
"We have been really impressed with their joined-up approach to this project and are looking forward to hearing and seeing the results come Friday."
The ad sales for Sport magazine and TalkSport are handled by UTV Media's sales house UTV Pitch, led by managing director Adam Bullok and commercial director Kurt Edwards.
Kevin O'Byrne, advertising manager, Sport magazine, UTV Pitch, said: "'Star Wars' fans are almost as passionate as sport fans, so this deal between 20th Century Fox and TalkSport is the perfect combination.
"The campaign shows a huge amount of creativity with everything from the on-air trails, to the Sport light-sabre covers."
Follow Maisie McCabe on Twitter @MaisieMcCabe