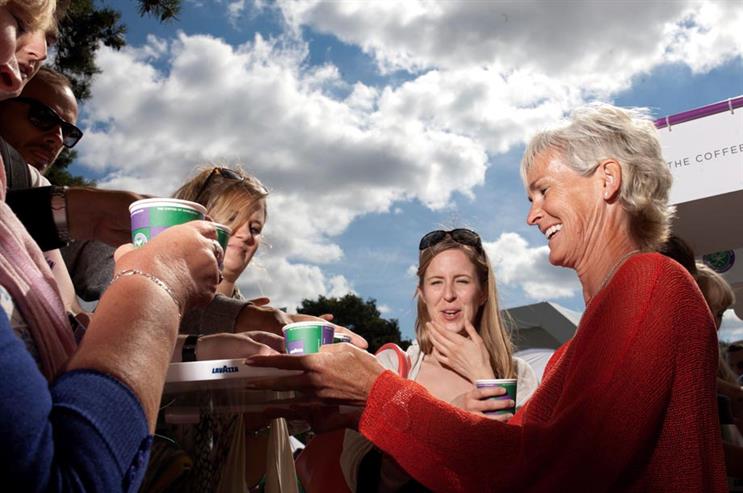 LAVAZZA
If all of coffee brand Lavazza's serving areas at Wimbledon were combined, they would form the world's largest coffee shop, staffed by 600 baristas and serving up to one million cups of coffee. Among these pop-ups was the Lavazza Q Cafe, which served those waiting in the legendary queue. Andy Murray's mother Judy, herself a tennis coach, joined Rafael Nadal's uncle and coach Toni to serve Italian coffee to punters on day three of the competition. As an added bonus, a limited-edition frozen espresso was formulated for the tournament.
JACOB'S CREEK
Australian wine brand Jacob's Creek stepped away from south-west London and launched an activation at Gatwick Airport to celebrate its sponsorship of Wimbledon. Pernod Ricard Travel Retail created the Jacob's Creek 'Open' in the airport's South Terminal for travellers waiting for their flights. Passers-by could take part in a game of gesture-controlled tennis on a digital court. Their score and images from the game were recorded via a radio frequency identification card and automatically uploaded to their Facebook or Twitter profiles, with the highest scorers winning two tickets to the men's singles final at Wimbledon.
EVIAN
As part of the brand's 'Live Young' concept, Evian said #LetsPlay to visitors at the tournament with a dedicated Evian cafe and suite. Both areas were created and managed by event agency MEC Access, and featured Evian's trademark baby pink branding. The suite gave a nod to the sport with a vintage tennis racket motif and ping-pong table forming part of the space's decor, and cake pops in the shape of tennis balls were provided by caterer FMC. The water brand's 'Baby and Me' campaign was also highlighted,with a giant baby chair made of grass, as well as baby bottles of Evian. Jameela Jamil and Rizzle Kicks were among the celebrities who stopped by.
HSBC
HSBC encouraged tennis fans to 'Get Closer to Wimbledon' with its grass court, dubbed 'Court 20', located next to the queue in Wimbledon Park. Ambassadors of the bank, including tennis stars Tim Henman, Lindsay Davenport and Goran Ivanisevic, came down to challenge members of the public to a test of skills. Other activities included a strawberries-and-cream hand-out for the company's customers, as well as the HSBC fan zone at the Aorangi Pavilion, which gave guests exclusive access to players for autographs and photos. A branded photobooth was on offer for those who preferred a selfie.
STELLA ARTOIS
Off the back of its Wimbledon sponsorship deal, the beer brand took over London's Waterloo station for two days with a quintessentially British tennis activation. Working with out-of-home agency Posterscope and experiential marketing agency PS Live, the brand used the station's digital screen to post updates on what was happening at the tennis, as well as broadcast Twitter feeds from Stella's #herestoperfection hashtag and images from the Stella Instagram account.
The experiential element of the activation gave commuters at the station a chance to take part in a short tennis quiz on iPads at a miniature tennis court, called the Centre Court Experience, using their knowledge of the game to compete for a pair of Wimbledon tickets, which Stella gave away every 15 minutes. Winners had their photographs put up on the screen at Waterloo before being whisked off to one of the station's platforms and put on a train to Wimbledon.