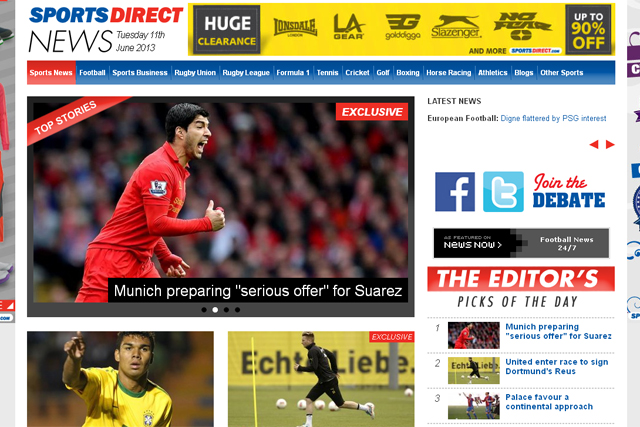 Sports Direct launched SDN in a £1m joint venture with My London News last month as part of a strategy to grow its online presence and brand awareness. This followed a trial launch in October 2012 using third party content.
Draper, who left Man Utd in 2006 to set up his own sports marketing agency Loose Lips, will advise on strategy while spearheading SDN's efforts to sign up additional sponsors to its fledgling news platform.
Tony Yorke, SDN sales and marketing director, said: "Sports Direct is our headline sponsor but we're looking for potentially another 12 to 16 partners to provide sponsorship for various parts of the site.
"Peter is able to fast-track a lot of that, helping us to achieve our short-term ambitions while also supporting our longer term strategic ambition to grow the SDN brand and become a multi-channel news service."
SDN recorded 500,000 unique visitors in its first live month and is intent on growing this audience to achieve its target of becoming a top three provider of sports news by 2015. To this end it will announce a number of celebrity columnists next week who Yorke described as "major faces in the world of sports".
Yorke added that SDN was also in discussions to form a number of commercial partnerships with third party sports marketing organisations to boost its user base, with announcements expected in the next three to four weeks.
Oskar Thorvaldsson, managing director of SDN, described Draper as "a class act who works at the highest level" and said that securing his services was "a major coup".
SDN launched on 1 May and delivers more than 80 stories a day across a range of sports, including Premier League football, rugby union, cricket, tennis, F1 and mixed martial arts.