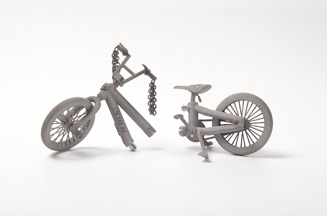 Bloggers will receive half models of 1980s-inspired icons and are invited to use their community of readers and online networks to locate the missing pieces. The aim is to stimulate discussions around the icons and the ASICS brand.
The models include Back to the Future's DeLorean car, a Rubik's Cube, an Atari joystick, a BMX bike, and a Yamaha keyboard. Each model is packaged in a cage-like graphite-coloured mesh, which bloggers have to crack open.
The blogs involved in the campaign are Highsnobiety, LimitedHype, FormFiftyFive, Freshngood, MZEE, Frizzifrizzi, StyleSpion, HypeQuest, BHmagazine and Fubiz.
The campaign will culminate in mid-May when all the pieces have to be traded to form complete models.