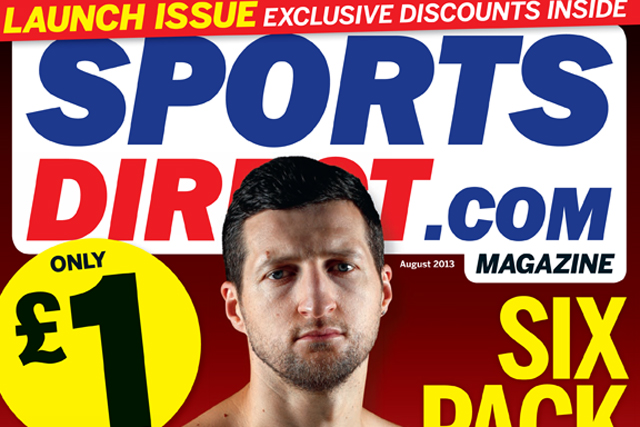 The title launches in Sports Direct stores on 27 July and will be available in retailers including Tesco, Sainsbury's, Asda, Waitrose, WHSmith, Co-op and Morrisons on 30 July.
The first issue will roll out as a split-cover run. Readers will be able to choose between a splash of Carl Froch, the world champion boxer, or the alternative cover that features a female model.
The title's 132 pages of content covers a mix of sport and fitness news, including a personal training section fronted by Gemma Atkinson.
Features in the launch edition include a staff writer getting into the ring with MMA star Colin 'Freakshow' Fletcher, a column from football pundit Chris Kamara, and performance-enhancing tips to help readers with their own football and golf techniques.
Gershon Portoi, editor, said: "This is a bold new title for people interested in sports and fitness, who aren't currently being served by other more niche magazines. It's accessible, useful, packed with value and I'm really excited about the launch."
Regulars sections in the magazine will include advice pages, a fashion shoot, reviews and The Big Shop section, which highlight the store's "best buys".
The products will be available to scan and to buy from a smartphone or tablet, using the new SportsDirect.com app by Aurasma.
Vinny Smith, associate director, marketing, Sportsdirect, said: "We want the brand to become synonymous with great sporting stories and expert fitness advice.
"Now we're engaging with customers to provide even more value by sharing our shortcuts to help them get fitter, play better and look great."