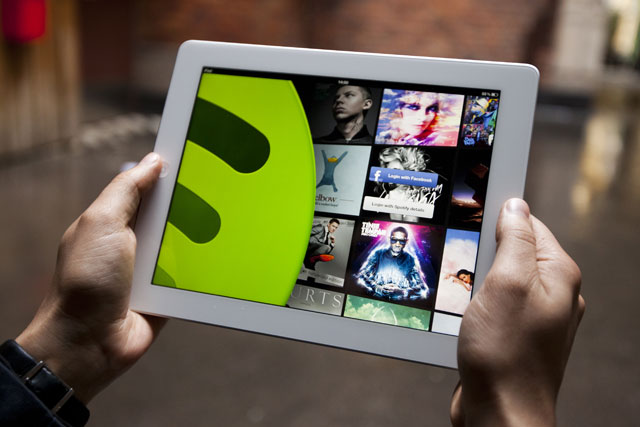 The app launched on iTunes yesterday (2 May) and is free to download for users with a Spotify Premium account.
The app's 'Now Playing' screen allows users to view cover artwork and search for playlists, other users and music, in the same window.
Social media integration is key to the new app, enabling users to discover trending playlists and songs among their friends, and share what they are listening to on social networks.
The launch on tablets is part of Spotify's plans to be on as many platforms as possible. A spokeswoman did not disclose whether an Android tablet app was on the horizon, but said the company was working on new apps all the time.
Spotify, which has three million subscribers and 10 million active users, currently has a service across all the major mobile operating systems, including Android, iOS, Symbian, BlackBerry and Windows Phone. It also has hardware integrations with devices including Sonos wireless stereos, Logtech Squeezebox and Virgin Media.
Although the app is ad-free, Spotify has stepped up the opportunities for brands on the service – first through the launch of apps and, more recently, with the launch of brand pages.
Spotify has also introduced a 'Play Button' that allows online publishers to offer the ability to play songs in Spotify on their website for free.
Spotify's iPad debut comes shortly after LinkedIn's similar move, which was also hotly anticipated.
Follow Sarah Shearman on Twitter @Shearmans