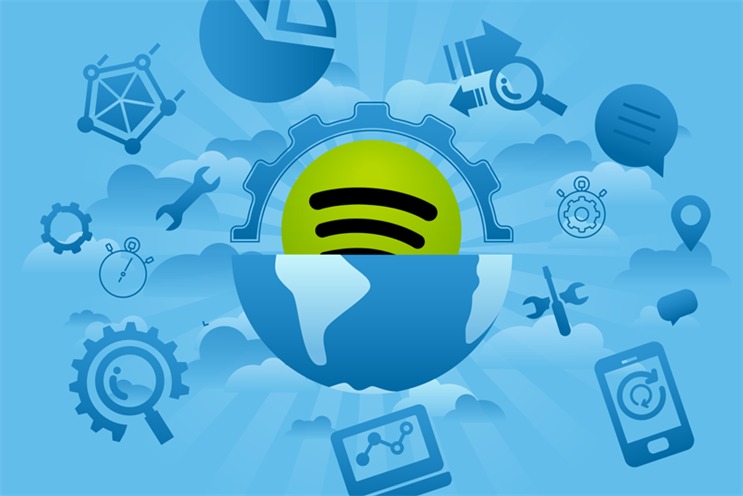 Lam, part of the company's artists and management team, was discussing how the services Spotify had introduced for both artists and music listeners had helped push the recorded music industry back into growth.
Total revenues in the global industry fell by 36% between 1999 and 2014, from $23.8bn (£17.6bn) to $14.3bn. But they have increased for the last two years. Reaching $15.7bn in 2016.
With both downloads and CD sales in decline, the growth has come largely from streaming, with a small amount from the resurgence of vinyl.
But before the evidence showed that Spotify and its competitors were putting value back into the business, there was a perception among many artists and labels that they were actually having a damaging effect on music.
In order to win round the industry, Lam said, Spotify needed to demonstrate its value as a marketing platform for artists – which it did by convincing music charts bodies to include streaming, alongside sales and radio airtime.
When he joined Spotify five years ago, Lam said, it faced a number of high-profile "holdbacks" from the likes of Taylor Swift, Oasis and AC/DC. "Another question back in the day was, will digital cannibalise physical music sales?" he added.
He continued: "So we had to take a step back, and say, what is the main metric in the music industry? For us, it's the charts. We had to approach the charts, and say, if your measure of success is basically sales, and people aren't buying music anymore, you need to start incorporating streaming.
"That was the real tipping point for me – because that really encouraged people to deliver their content to Spotify."
Artists used to hate Spotify, he said, because "a lot of it was confusing" and it was difficult to see what it could do to help them.
"When we talk about music at Spotify now," Lam said, "We need to think about the artist. How do you go from idea to pen to paper, to the studio – how does that then go to market? How do we help you find your listeners, and turn them into fans? They're the ones who'll buy your vinyl, your T-shirts, come to your shows."
Lam went on to outline some of Spotify's functionality. With its Spotify playlists, he said, "we wanted to get music to listeners as quickly as possible without any human curation."
But at least as important, he said, was Spotify for Artists, which provides in-depth analytics to artists on how their music is being listened to, potentially helping them to plan tours, reach their most hardcore fans, and understand contexts in which people listen to their music.
The music industry, Lam said, was "no longer in a retail model. We work on attention economics. The more attention you can get, the more streams, the more consumption."