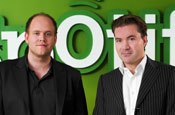 The Stockholm-based company, whose founders include Martin Lorentzon, previously co-founder of TradeDoubler, and Spotify chief executive Daniel Ek, will open for business in the UK, Germany, France, Italy, Spain, Finland, Norway and Sweden, with further territory launches planned for the remainder of 2008 and into 2009.
Spotify, whose services include a free to the consumer ad-funded model, as well as premium monthly and "daily pass" ad-free subscription models, said users will have on-demand access to stream millions of tracks, the company having secured licensing deals with the four majors as well as digital distributor Orchard and indie label licensing body Merlin.
Ek said after two years development the team was delighted to finally open the product out to market and offer consumers and advertisers the "best possible service".
He added: "We offer fantastic opportunities for brands who want to align themselves with the strong emotions created by music in a high quality environment."
Advertisers at launch include Ford, T-Mobile and Xbox. Spotify UK, headed by sales director Jon Mitchell, previously at GCap, is offering standard display as well as audio slots that include a display element, where text ads are fed into the service as audio ads roll.
Spotify is entering a competitive market, with News Corporation-owned MySpace being the latest to launch an ad-funded music service.
The company, which now numbers 60 staff across Europe, was originally privately funded but recently took a further round of funding from Swedish venture capitalist firms Northzone and Creandum.