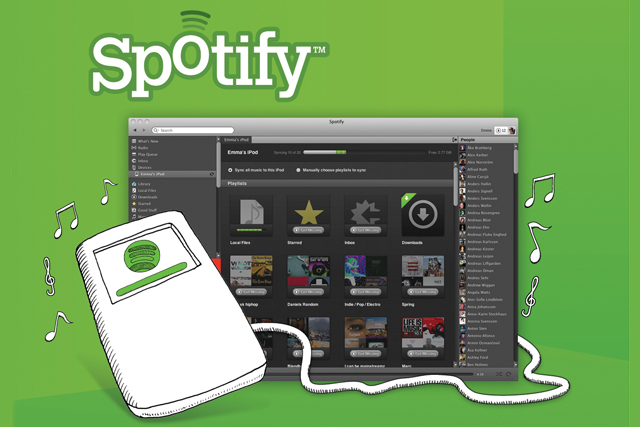 From today, users will be able to purchase tracks to create bespoke playlists, at what its claims are the 'most competitive MP3 prices available'. Prices range from £7.99 for 10 tracks, £9.99 for 15 tracks, £25 for 40 tracks and £50 for 100 tracks, working out at between 50p and 80p per track.
Spotify is also extending a cut down version of its iPhone and Android app to non-paying members, meaning users can download Spotify Mobile iPhone and Android apps to sync MP3 playlists in Spotify from desktops to phones.
When a user installs the Spotify app their phone will automatically appear in a 'Devices' sidebar on their PC, allowing users to wirelessly sync playlists to their phone
However, Spotify Free users will not be able to stream the service on their mobile devices.
It has also created an app, which allows users to download playlists to Apple's iPod touch, after the music service claimed better iPod integration was the most requested update by its 10 million users.
Daniel Ek, chief executive and founder of Spotify, said that Spotify really is "the only music player you'll ever need".
"Our users don't want to have to switch between music players, but they do want to take their playlists with them wherever they go, on a wider range of devices, more simply and at a price they can afford."
The automatic updates come just days after Spotify introduced new restrictions on its ad-funded free music service, which saw it halve its free music allowance to 10 hours of music per month.
Earlier this year (22 February), Spotifiy announced it had secured around $100m of new financing in a deal that valued the site at $1bn.
In March Spotify announced it had over one million users paying for the service.
It has attracted criticism over its delayed its US launch, but Spotify has now assembled a North American commercial team and is currently meeting potential advertising partners. Jon Mitchell, UK country director, is believed to be leaving the UK business to assist with the launch.