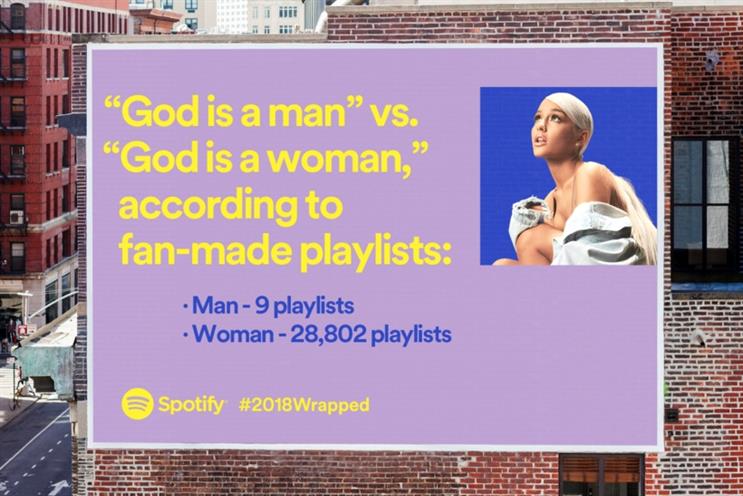 Spotify's end-of-year marketing campaign is here – and this time, the platform is using creative to highlight the important role that music plays in people's lives and culture.
The annual "Wrapped" initiative launches today across OOH, digital and social and features more than 50 artists, such as Ariana Grande, Post Malone and Shakira with Maluma. Campaign elements will go live in the U.S., U.K., Australia, Brazil, Canada, Colombia, Denmark, France, Germany, Indonesia, Mexico and the Philippines.
"Our annual Wrapped ad campaign is a true embodiment of our proposition as a 'platform for discovery.' Our users have come to expect the year-end wrapped campaign year after year, and are eager to see how their interactions on Spotify connect to what is happening across the global Spotify community," said June Sauvaget, Spotify's global head of consumer marketing, in a statement.
In addition to showcasing how music and Spotify create community vibes by shedding light on listening behavior from the year, the campaign highlights popular podcasts from 2018. For example, more than 327,000 people claim "My Favorite Murder" as their favorite podcast this year.
Some other fun takeaways from this years Wrapped include:
3,754 Laurel playlists created vs. 1,059 Yanny playlists created
22 fan-made Engagement Party playlists featured Florida Georgia Line's 'Talk You Out Of It.'
The fan-made "I don't give a s*** what the calendar says, it's Christmas" playlist is about to be correct for the first time in 2018.