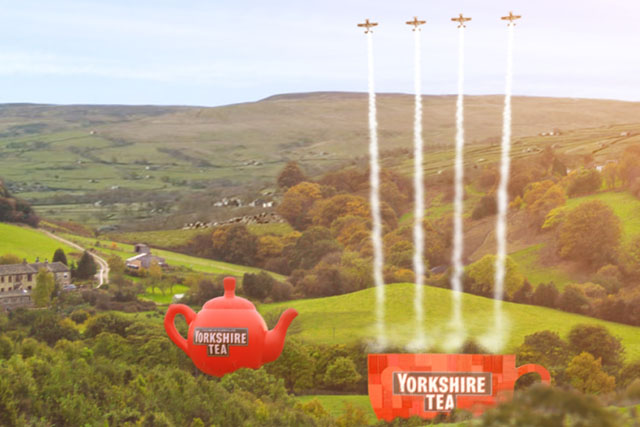 To mark the start of the cricket season and highlight its forthcoming summer of activity, the brand took fans (including celebrity fan One Direction's Louis Tomlinson, see below), staff and associates on a trip around Surrey on the Orient Express yesterday (24 April).
Marketing caught up with Eyles (right), who joined the brand owner Taylors of Harrogate at the start of last year, to find out the thinking behind the tea brand's strategy and the trends in the wider market.
Why have you decided to sponsor cricket?
The inspiration behind cricket is that it is a game that stops for tea, it's the only sport that has with a break for taking tea. It's a great tradition and it's a very English thing to do. We've had a long connection with the game [at grass roots levels] and it features on our boxes so this felt like good link. It was one of the easiest sell-ins I have to do to my managing director Andy [Brown]. Trevor Beattie [BMB founder], who is passionate about cricket, has been the creative force behind it.
What's the thinking behind the new campaign?
One of the things that sets Yorkshire Tea apart is that it's a down-to-earth straight forward brand but it doesn't take itself too seriously. Tea is often positioned as something to have when things go wrong but we wanted to do an out-and-out celebration of tea, after all we are still a nation of tea drinkers.




The ad is the springboard for being the official tea of English Cricket team and we're going to celebrate this at the Test matches coming up as we're going to look to recreate the ads in the tea break and do it live in cricket grounds. We've got huge amounts of sampling and activation around cricket grounds as well and we're working with the ECB to work out what we can do. There's been one burst of the ad on TV and we'll have another in the summer.
How has the ad being received?
The memorability, enjoyment of it and [recall of the] branding has generated fantastic results. Overall, however you ask those questions about likeability or feelings towards the brand they are all positive and getting better. Even though we've got a heritage and tradition to the brand there's also a vibrancy to Yorkshire Tea. I feel that we're making our competitors like Tetley look a little bit old-fashioned.
How is the brand performing in terms of sales and against the overall sector?
The tea market has been in decline for the last four to five years because people have got more options. They are drinking more coffee and the coffee market is more dynamic, driven by the café culture trend which is about coffee not tea. Fruit teas are also growing, too. Everyday black tea as a sector is in decline by about 3-4% but we're up about 15% year-on-year. We haven't got the biggest budgets like the Unilevers of this world but we are absolutely flying and gaining popularity.
Private label has got a low share in tea and it's declining. The trust and importance in which people hold tea brands is really strong. Would I prefer to drink an Asda tea or a Yorkshire Tea? I know what I'd say every time.
If the fruit tea sector is growing shouldn't Yorkshire Tea be trying to expand into it?
They are taking more space on supermarket shelves but it's still a small sector. What we are clear about is that Yorkshire Tea is a 'proper brew'. But as Taylors of Harrogate I think we need to explore areas of the tea market that we are not really in like green teas and herbal teas.
So, you're not going to see camomile versions of Yorkshire Tea; we're about being a straightforward traditional tea. I think there's something to be said for having a focus on knowing who you are and what you stand for and sticking with that.