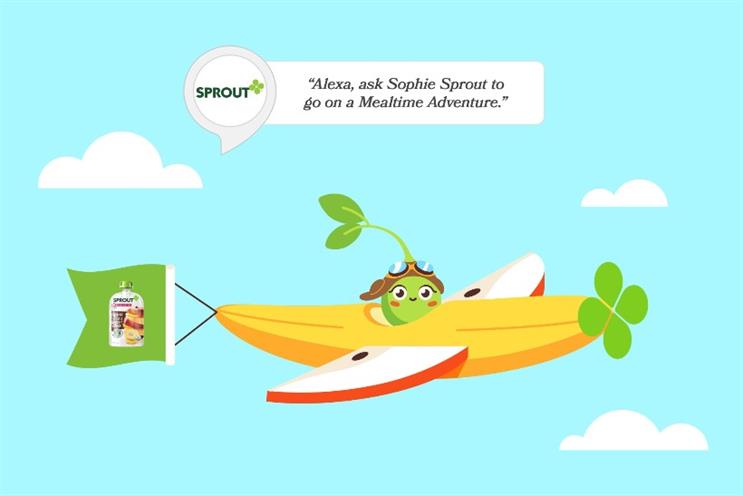 A groundbreaking voice app has been created by an independent agency looking to capitalize on the audio boom.
New York City-based Walrus launched a first-of-its-kind voice skill for infant nutrition company Sprout Foods. "Sophie Sprout" has started its life as an Amazon Alexa skill, and will later launch as a Google Home voice app.
The app helps guide moms and dads through the daily challenge that is meal time by offering entertainment designed to get kids to eat a healthy diet.
"In the voice space apps and skills are 100 per cent user initiated, so brands need to bring something useful to the table or else they'll be ignored," said Deacon Webster, co-founder and chief creative officer at Walrus. "With Sophie Sprout, we're bringing an element of fun and entertainment to the often-taxing process of getting kids to eat their meals. This isn't an ad. It's a tool that can be used over and over again."
Inspiration for the idea came from Webster's young son who is "enamored" with Google Home.
"We joke that it's his best friend," said the CCO. "He listens to music on it, plays games with it. It makes sense -- children have lots of questions and they can't type. Voice assistants are more than happy to provide answers for hours, and all you have to do is ask. At the same time, we knew that parents have a heck of a hard time getting their kids to eat their meals. It takes forever, they don't like anything that isn't sweet, it's messy. This felt like a real opportunity for Sprout, whose mission is to foster a love of healthy foods in children.
"Creating a voice application made the most sense because they shine in instances where the user is busy with their hands. Ultimately this isn't an application that will necessarily make you buy more Sprout foods, it's something that makes the experience more fun once you've already made a purchase. This, to us, is the real opportunity when it comes to voice -- not to sell but to enhance."
The app plays songs about fruits, vegetables and plant-based proteins and revolutionizes the old airplane trick by turning it into a "Mealtime Adventure," all while telling the story of talking plant Sophie Sprout.
Audio skills for kids is the fastest growing category of skills for Alexa, according to Amazon.
Forecaster eMarketer predicts the number of U.S. smart speaker users to rise at a compound annual growth rate of 47.9 per cent between 2016 and 2020, from 16 million to 76.5 million.
Uptake in adoption of these devices is so strong that the number of adult smart speaker users is expected to surpass that of wearable users for the first time this year.
The user demographic is shifting from early adopters (who usually come in the form of affluent, older Millennial males) to young Generation X women with children.
Alexa is still the most popular voice device -- but competition from Google is heating up. Fast.