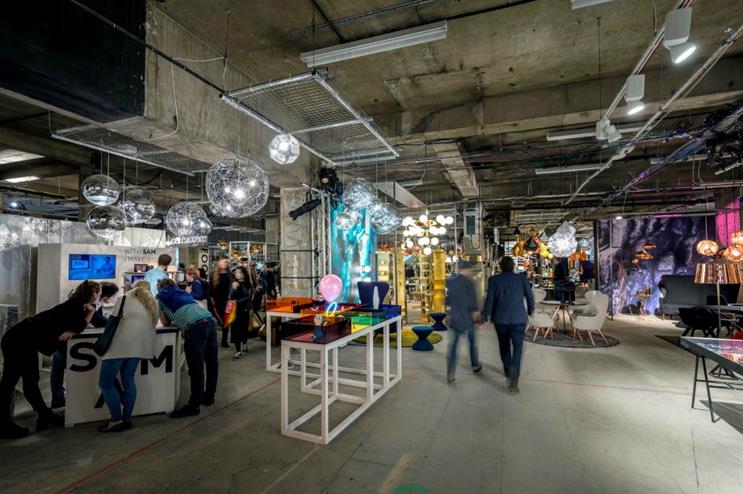 Event receives its fair share of press releases, and a many of the hundreds we receive each day have, predictably, some reference to a pop-up. Experiences all seem to crowd under this same conceptual umbrella, whether they be an original mobile installation, a retail outlet with no experiential aspect whatsoever, a year-long residency in a shopping centre or even a semi-temporary homing centre for cats (yes, really).
Along with its pervasiveness, the concept is also one that arguably has jumped the shark. Its connections with pulled-pork loving Hoxton hipsters and bearded account directors have been difficult to shake off. Indeed satirists have jumped on its case – creating thepopupgenerator.com (sample idea: Locally-sourced donut boudoir nail bar). And some might argue that 2014's Cereal Killer café was the nail in the coffin.
Old dog, new tricks
But despite its apparent presence in the Zeitgeist, it's not a new concept. "Pop-ups aren't a recent phenomena," says Mark Stringer, founder of creative marketing agency PrettyGreen. "Temporary retail experiences have been around since the earliest festivals, which is credited as being the Pythian Games in 582 BC if you were wondering, where traders would create temporary retail environments."
He continues through history: "As marketers, we love reinventing the wheel. Some of us can remember the invention of 'experiential' in the late 1990's, which was simply the reinvention and reinvigoration of sampling. Pop-ups really came into their own after the financial crash in 2007, when there was a lot more distressed retail space and landlords, agents and marketers saw an opportunity for short term lets, with brands creating spaces in high footfall retail areas."
But the recent pop-up revival is not just a rusty relic of bleaker times – it is one that's remained despite more money once again flowing into events and traditional venues. Ross Bailey's Appear Here service, which connects landlords' vacant spaces to brands and agencies, raised £4.8m in funding last year and now has more than 1,000 spaces on its roster.
Earlier this month Concerto Group launched Venueseeker Black to cater for event managers seeking exclusive, secret and unusual venues, while Shout About London's Ben Gamble went as far to say that "more and more of the capital's closed or unused (and unlikely) venues are stealing the limelight from regular hosts" in a recent blog for Event.

A dying breed?
So while the pop-up may not be dead empirically, has its popularity, or indeed an excessive use of the term, the ability to kill the concept slowly?
"I think the term pop-up is overused and therefore slightly fatigued, but the concept is alive and well and will probably outlive us all," says Greg Saunders, creative director at White Label. "Many things are now lazily positioned as 'pop-ups' as the term imbues an idea with a cache of freshness, creativity and urgency that the idea itself may well be lacking. Quite often a much hyped 'pop-up' can turn out to be a thinly-veiled brand promotion."
He adds that lengthily brand activations that are so-called pop-ups quite frankly aren't, as "long-lead PR coverage of pop-ups is technically cheating.
"The dictionary definition of pop-up is 'to appear or occur suddenly' and I think this basic idea of a sudden and unexpected happening is its enduring charm," he explains.
Will Glynn-Jones, director of experience at The Moment, says that, for him, the problem lies within the concept's seemingly undying omnipresence. "The first pop-ups were fleeting, unexpected, exciting and this fitted brilliantly with consumers in today's society. Commodities are disposable, so why not stores, bars, experiences and anything else for that matter?
"But as brands try to continually - and in some cases desperately - tap into this, so the equity that pop-ups have with the consumer is drained. It's no different to any other comms tactic – evolve or die."
The next chapter
As with any trend, brands have the power to breathe life into, and kill, the pop-up. With that power, what should they be doing to keep the concept flourishing?
"In a world based around social like-mindedness, I see the humble pop up being used more," says Carl Turner, head of creative at DRP. "Not so much at the beginning of a social sharing programme, but towards the end, as a place where people can come together for an experience, once already engaged."
Glynn-Jones agrees pop-ups should be used as "part of a wider strategy that enhances people's lives, rather than a tactical opportunity to drive that little extra volume," while for Saunders, it should be less about a retail space and more about an immersive experience – specifically through theatre.
"Since the year 2000 the likes of [theatre company] Punchdrunk have been leading the way with site specific immersive short run performances in far flung industrial spaces on the edge of the map," he explains. "These more visceral and immersive brand experiences are, in our view, the sight, sound and flavour of things to come, partnering brands with cultural entities in curious places to create environments and experiences that are remembered far beyond the tube ride home."
Stringer lays out a list of what he expects to see in the pop-up space over the next year, including a return to shop-in-shop concepts, collaborative environments and semi-permanent spaces that will stay in situ for months rather than days – all of which interestingly can be seen in Tom Dixon's Multiplex installation that launched last week.
But he concludes: "All it probably needs is someone to come up with a new name for pop-ups, and everyone will fall back in love with one of the most exciting weapons in the event world armoury."
More: Documenting the selfie - why brands opt to include it in their activations
Comment below to let us know what you think.
For more in-depth and print-only features, showcases and interviews with world-leading brands, don't miss the next issue of Event magazine by subscribing here.