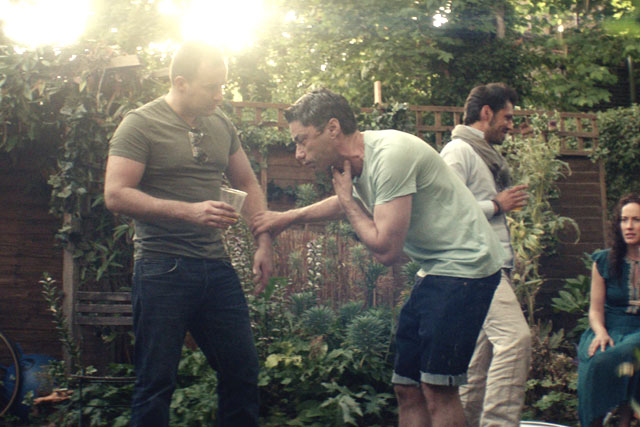 St John Ambulance is the charity that raises awareness of the life-saving qualities of learning basic first aid and this week, it launched its first TV brand campaign in nearly two decades. It shows consumers that the number of people who die from cancer is virtually the same as the number who die from accidents that could have been prevented by knowledge of first aid.
The TV ad, created by Bartle Bogle Hegarty (BBH), generated around 1,500 texts from consumers requesting a first aid guide within a minute of it airing on Sunday (16 September), during ITV's 'Downton Abbey'. It shows a man being diagnosed with cancer, going through treatment and recovering, only to die from choking on a piece of food at a barbecue.
Two years ago, the charity launched its 'The Difference' campaign featuring a series of photos of people who had died, and how they could have been saved by first aid, which won a Cannes Gold Lion and D&AD yellow pencil award.
Jacobson joined St John Ambulance in 2009, prior to which he spent three years with Orange first as PR director, rising to director of corporate communications.
He has previously run his own communications consulting firm and was a senior vice-president at PR agency Ketchum, and held three positions over five years at Coca-Cola – USA PR manager, manager of global sports communications, and director of marketing communications.
Speaking to Marketing, Jacobson explains the motives behind the new marketing push:
The campaign is a powerful piece of awareness. What was the reason for choosing to compare the number of deaths from cancer and the number of accidental deaths that could have been prevented through first aid?
Up to 140,000 people die each year in situations where first aid could have given them a chance to live. To be honest, we were quite shocked when we realised this is the same number of people that die every year from cancer.
We had every reason to believe it would be shocking to others, and knew intuitively that other people do not realise the degree to which a lack of first aid is actually life threatening – which we backed up with our own research.
By putting it in the same category as something like cancer, which most people readily accept claims many lives every year, we hope people will take first aid and St John Ambulance more seriously.
What has been St John Ambulance's strategy prior to this campaign? Has it changed?
Our strategy hasn't changed since we launched 'The Difference' back in April 2010, with what became known as the 'Life Lost' campaign.
Prior to that, St John Ambulance was very focused on the delivery of first aid services at football matches for example, as opposed to raising the profile of first aid and equipping as many people as possible with first aid knowledge.
What that strategy overlooked was the fact that a "traditional" profile neither furthers our vision as a charity, nor resonates from a brand perspective with most people in the outside world.
Why did you launch this campaign now?
It is the first time in nearly two decades that St John Ambulance has created a brand TV campaign, but we didn't set out to create a TV campaign per se – it was one of the options BBH came up with in response to the brief.
As for the timing, there is no good or bad time to launch a first aid awareness campaign because in reality the need is ever-present, so if we could afford it, we would be advertising all the time.
That said, once we settled on the creative concept, we began discussing with John Ayling Associates, our media agency, how to best leverage our limited media budget in a way that would get us in front of a big audience. We wanted to prompt debate both online and in the media, which is when we discussed targeting programmes such as 'Downton Abbey' and 'The X Factor', focusing on a mid-September timeframe.
What is the response that you hope to achieve from the campaign? Is there a target amount of people to sign up to training in first aid? Or for donations?
We'd love more people to get first aid training – and of course donations help us to do more of everything – but our immediate goal is for more people to take first aid seriously enough to at least text the charity for a free first aid guide, to download an app, or spend a few minutes on our website absorbing some first aid knowledge.
We also hope to continue strengthening the St John Ambulance brand. One of the most gratifying accomplishments over the past two years has been our rise up the Charity Brand Index, from number 16 to number 7, and a 22% rise in brand relevance from 2010 to 2011 alone.
On Sunday night, we received around 1,500 texts within the first minute of the ad airing. Thanks to the PR coverage that has been generated since the launch, and subsequent airings of the ad, the texts have been coming steadily in.
Follow @loullamae_es