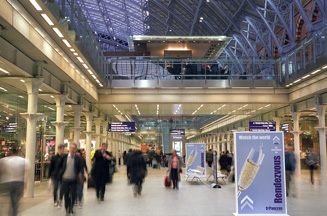 High Speed 1, which owns St Pancras International, said the free magazine, St. P, takes the forms of a glossy lifestyle title, which will provide information about the station, its retailers, fashion and health and beauty. It will be published twice a year and will be distributed in the station, local retailers and in tourist offices. It will be accompanied by a Christmas gift edition.
A spokesperson for High Speed 1 said the magazine will be significantly different from customer information leaflets distributed at other UK stations. It aims to build on the station's positioning as a social hub and 'a foodie's paradise' by highlighting reasons to visit the station beyond transport needs.
The launch of the publication next month will coincide with a two-week-long food 'extravaganza' bringing together celebrity chefs, such as Oliver Peyton and Richard Corrigan, cookery demonstrations, food and drink tasting and other culinary activities.
September will also mark the launch of the station's daily farmers' market. It will sell produce from local retailers such as Stewed, which sells gourmet stews and is based in Holloway, and Hoxton Beach, which specialises in falafel and vegan Lebanese food.
The magazine and activities, by digital and direct agency Ruby, aim to draw on the station's potential of becoming a celebrated social space. The agency was appointed in May after a pitch against Gyro International, 23Red and Meteorite.
Maureen Bannerman, retail and marketing director at St Pancras International, said 'We have a flow of new visitors to the station and we continue to maximise the potential of this amazing place.'
She added: 'St Pancras International is a very special place to meet, shop and eat whether you're getting on a train or not.'
A spokesperson for the station is not just a destination for the Eurostar and high-speed rail in the UK but a retail and hospitality destination and a place for people to meet.
A 9m high bronze statute of a couple locked in an intimate pose represents a meeting place for visitors. The station also features Europe's longest champagne bar, a gastro pub and a brassiere on the platform level.
On the lower level, it features a range of clothing, gift and food retail brands such as Thomas Pink, LK Bennett, Monsoon, La Senza, Oliver Bonas, Neal's Yard Remedies and Hamleys. It also features an arcade with independent and boutique retailers.
The station even runs group tours for tourists. These draw on its history, current work and future plans and cover the principal features of the station.
When the station first opened in 1868, the William Barlow train shed was a spectacular example of Victorian engineering.