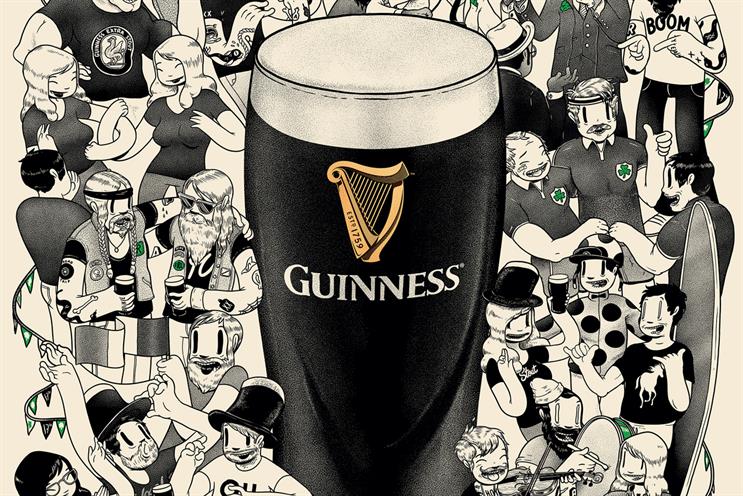 Guinness is celebrating St Patrick's Day with a series of illustrations by McBess featuring some of the brand's famous characters getting together for a pint.
Surfers and sapeurs Bulmers Original Irish Cider: launches TV ad in time for St Patrick's Dayare among the faces who will be apearing on branded posters, t-shirts and beer mats in pubs and bars over St Patrick's Day weekend.
Paddy Power has teamed up with the Cheltenham Festival to create the "gambling sector first" Snapchat filter.
The filter will be available to users in the UK and Ireland for one day only.
Bulmers Original Irish Cider is using the day to roll out a campaign that pushes the brand's Irish heritage.
The activity is backed by a TV ad set in a Dublin house party where the guests, although not sure about some of the thoughts passing through their heads, are in no doubt that the cider they're drinking is 100% Irish.
Watch Bulmers Original Irish Cider "100% Irish cider" ad by Lucky Generals here.
KFC marketing man Randy O'Brien returns in a new ad for the fast-food brand. His brief is to make KFC 200% more Irish. His solution is The O'Sander's Feast, which includes 14 pieces of Irish chicken and four portions of mashed potato.
Starbucks is running a relatively low-key campaign on Twitter where its St Patrick's Day post simply states "We always wear green". Continuing with the colour theme, the brand is also promoting its Green Tea Frappuccino in stores.
We always wear green. ?? ?? #StPatricksDay pic.twitter.com/SBTUcxBdXP

— Starbucks UK (@StarbucksUK) March 17, 2017
Also on Twitter, Rum brand Captain Morgan is jumping on the bandwagon by eschewing its Welsh connection and claiming Irish ties.
Well, if the entire world is claiming Irish roots today... @GuinnessGB #StPatricksDay pic.twitter.com/wgm7BEM0dB

— Captain Morgan (@CaptainMorganEU) March 17, 2017