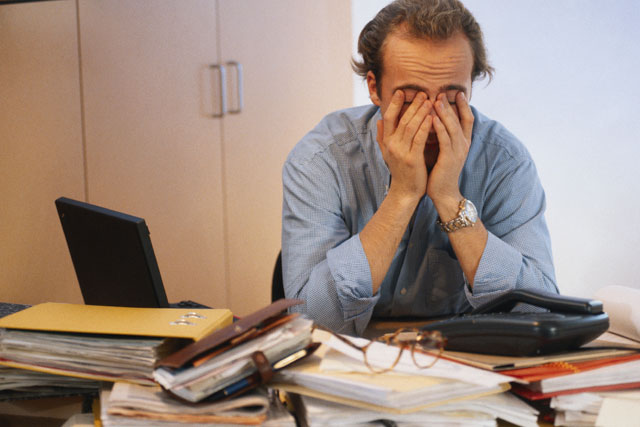 While it undoubtedly could have happened to pretty much any company, the fallout that WPP's MEC is experiencing from last week's drama opens up a valid issue that, in the current climate, deserves airing (and is perhaps the least sensational of all the things written in that now-infamous e-mail). The employee who instigated the Twitter frenzy claimed that he had suffered work-related stress that had resulted in him being told to take time off work by his doctor.
Since the credit crunch began in 2008, and especially in more recent years when crunch has threatened to become slump, agencies (and media agencies in particular) have come under increasing pressures. Clients have, perhaps understandably, taken every legitimate opportunity to squeeze margins, with predictable consequences. Agency staff are being invited to work rather hard.
Are we now seeing evidence - whatever the truth behind the MEC farrago - that things have been getting out of hand? It's a rather long time since Bob Wootton, the director of media and advertising at ISBA, worked on the agency side, but ISBA's member companies are clearly very close to this issue.
He states: "It's true that, to be competitive, agencies like to promise the earth. And, once you've over-promised, that can sometimes lead to situations where managers drive their staff very hard. There will always be those who find that very stressful.
"But the thing is, working in advertising is still regarded as one of the more desirable ways of earning a living - and it is still relatively well-paid. If you think of the hours some lawyers work, then we're not talking about a situation that's so very far out of whack."
Andy Jones, the chief executive of UM London, would concede that things have become tougher in recent years. "Clients are squeezing as much out of agencies as they can. People are under more pressure," he confirms. "The issue these days is about managing time effectively. Technology brings many benefits, but one aspect is that everything now has to be done on the spot. It also leads to people working non-standard hours on mobile devices at home."
Yet he adds: "All sectors of the economy are under greater pressure. But if you ask me if people in advertising are under more pressure than, say, nurses or those in certain types of manual work - I'd have to say no."
Richard Morris, the managing director of Vizeum, tends to agree: "It is a management responsibility to help people cope with pressure in the best way possible - and I believe, by and large, that management has taken its duty of care very seriously." In the macro context, he says, he does not believe there is more pressure on the industry compared with other sectors, adding that the situation has not changed over the past few years.
Tellingly, some of the bigger media agencies declined to take part in this piece. One source said that the incident had prompted a great deal of debate - and, indeed, introspection - at a senior level.
Of course, most major corporations will occasionally have to deal with burnout cases. Human resources people tend to be well-versed in this - and have access to a huge body of literature covering the issue. Sometimes, the root cause has little or nothing to do with work. Not directly, at any rate. But to say so will often look callous.
In other words, the potential for burnout is, sadly, a fact of life. As one source at a big agency group puts it: "We think we have a pretty decent track record when it comes to this issue, but we're in a position where we can't be seen to be saying so because it might look complacent. And someone might stand up and say, yes, but what about so-and-so, who went through a pretty miserable time of it last year? Everyone's now rushing around and checking we really have done our best in the past - and are in a position to do our best in the future."
Mark Palmer, the founder of the consultancy Maverick Planet, knows the media agency world inside out - but he now views it from a somewhat objective standpoint. He would argue that, rather than getting worse, things are actually better than they used to be. He explains: "Two or three years ago, I might have said yes - it's true that a client may make demands that an agency may find difficult to refuse, so you can get into a vicious circle. And let's also remember agencies generally don't get paid for pitching. But the industry is better than some others I can think of. No agency that I know of wants to sweat its staff."
MAYBE - BOB WOOTTON, DIRECTOR OF MEDIA AND ADVERTISING, ISBA
"If you had an idealistic hat on, you'd say yes - perhaps people are worked too hard. But that's modern life. One problem, if you can put it like that, is that so many people want to work in advertising. That creates its own forms of competitive pressure."
NO - ANDY JONES, CHIEF EXECUTIVE, UM LONDON
"The truth is people enjoy working in this industry. It offers interesting jobs. And we still encourage people to spend time thinking creatively. Are people working harder than before? Yes, they are. Is it unreasonable? No."
NO - RICHARD MORRIS, MANAGING DIRECTOR, VIZEUM
"I don't think there's more pressure on our sector than in other areas of the economy. And I wouldn't say the pressure has been increasing notably in the last couple of years. It was tough in 2008. It's tough in 2012."
NO - MARK PALMER, FOUNDER, MAVERICK PLANET
"There are pockets of excessive stress levels. But let's also remember that the industry has changed a lot in recent years. There are more female bosses, for a start. There are working mums and there's more flexibility generally."
Got a view? E-mail us at campaign@haymarket.com