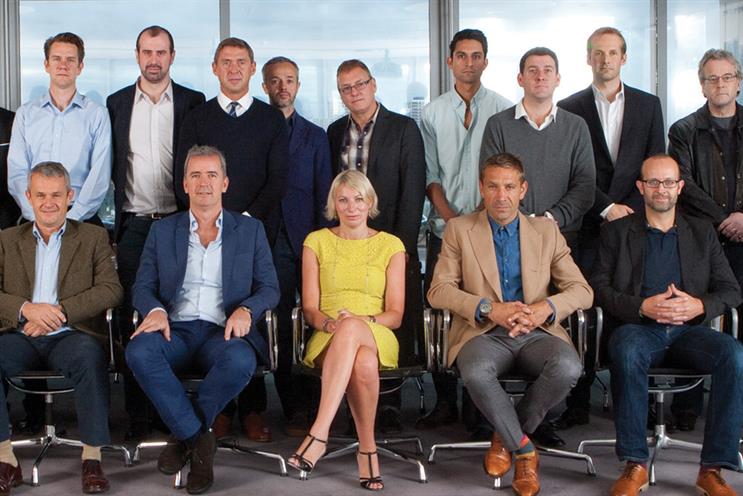 Awards on the night will include Best use of Branded Content, Cross Media Sales Team of the Year and Agency of the Year. See the full list of finalists vying for success below.
The Campaign Media Awards have established themselves as the most prestigious event in the media calendar with the focus on brilliant and inspiring creative media ideas.
The awards aim to reward campaigns where media has made a real difference, with anyone involved in the business – from media agencies to publishers, broadcasters, networks and strategic media companies – encouraged to enter.
The Campaign Media Awards is being held in partnership with Spotify this year who will be also be hosting the after party with a guest star DJ until the early hours.
This year's chairman of the judges, Phil Georgiadis, chairman of Walker Media, said: "What struck me most was the level of intelligent and reasoned debate among the judging groups.
"Among the winners are fantastic examples of why media must now take a lead in solving advertisers' communication challenges – applying insight, utilising data and harnessing creativity across a variety of platforms.
"The winners are an excellent reflection of what is great about the new media landscape, and the enlarged and invigorated role played by media agencies and owners alike."
Arif Durrani, head of media at Campaign, gathered 45 leaders together for this year's judging process, all notable business leaders in their own rights.
He said: "These prestigious awards place the focus firmly on the work. Its winners highlight the very best the industry has to offer and in themselves serve to highlight the changes taking place acrosss the industry.
"It's easy to forget sometimes amid all the innovation that our media industry represents a multi-million pound business for UK plc. And in this age of consolidation, with the rise of the behemoth marketing groups, I was delighted to get Phil on board to provide a welcome independent perspective and robustness to the process."
The final few places are still available for those wanting to attend this year's Campaign Media Awards at http://www.campaignmediaawards.com/
Contenders for this year's awards
Product Sector Categories
Alcoholic drinks
Jose Cuervo Who's In, Carat
Classic FM's Tasting Notes Laithwaite's Wine, Global Radio
The World's Largest Pub Quiz with Bell's, Global Radio
Making Stella Artois Cidre THE drink of the Summer, Vizeum UK
Best Total Communications Programme
Winning Gold at London 2012 - Take the stage, Carat
The road to London 2012: A marathon not a sprint, Channel 4 Sales
John Lewis Christmas - The Snowman's Journey, Manning Gottlieb OMD
Christmas Days, PHD
Not as sweet as they look, PHD
What's Cooking from the Sainsbury's Kitchen, PHD
Best use of Branded Content
Creating a shop window for very.co.uk through the Big Brother house, Channel 5
VW Beetle Abbey Road Sessions, MediaCom
Time to Change IPC Edvertorials, MediaCom
What's Cooking from the Sainsbury's Kitchen, PHD
Here's to extraordinary, PHD
Best Use of Research
Lurpak Matching The Mood Of The Nation, Carat
MEC Momentum, MEC
TUI - Real World Attribution, MediaCom
Kleenex Cold & Flu Predictor Winter 2013, Mindshare UK
TV and VOD Friends with Benefits, ZenithOptimedia
Fashion, Beauty and Healthcare
The Truth, Carat
Collaboration with sensitivity, Channel 4 Sales
No. 7 Match Made Foundation Service, Global Radio
Nivea Dare to Kiss, MEC
Rihanna for River Island: Take a Bow, Mindshare UK
Kleenex Cold & Flu Predictor Winter 2013, Mindshare UK
Financial, Corporate & Utilities
Trading Academy, Arena
AXA PPP Healthcare - Stand up to Cancer, Havas Media
Home Finder App: Beyond advertising, MEC
Zurich Life Navigator, Mindshare UK
BP Home Team, Mindshare UK
Gold Medal winner Stamps, UM London

Grocery, Soft Drinks & Household
Lurpak Matching The Mood Of The Nation, Carat
Yorkshire Tea's Great Cricket Tea Challenge, Goodstuff
Felix - The Search For Britain's Cleverest Cat, Mindshare UK
Doritos Mariachi, OMD UK
Putting the Fan in Fanny, PHD
Not as sweet as they look, PHD

IT & Consumer Durables
Wickes sponsors the Christian O'Connell Breakfast Show on Absolute Radio, Carat
Intel Inside: Live, OMD UK
WP People Powered Media, IM London
O2 Future Timeline, ZenithOptimedia
O2 and Blackberry Red, ZenithOptimedia
Media & Entertainment
Conversations Start Here, Gravity Road
Guardian Witness powered by EE, MEC
Wi-Fi Finder, MediaCom
Gabrielle Aplin, SMV Group
Roll of Honour, UM London
Public Sector & Charities
Cancer Research UK's More tomorrows on Classic FM, Global Radio
Age UK - Using The Language of Touch, Manning Gottlieb OMD
Stoptober, MEC
Public Health England - Resolutions Booster, MEC
TA Live, MediaCom
Retail & Home Shopping
A Voyage of Discovery, Maxus
Halo 4 Pizza, SMV Group
Tesco Kids in Charge of Christmas, Initiative
Tesco Virtual Fridge, Initiative
Tesco Most Forgotten, Initiative
Don't Cook JUST EAT, WCRS
Transport
Nissan X-Trail meets Caravan Club - Opposites Attract, Manning Gottlieb OMD
Growing up doesn't mean growing old, Maxus
#YouDrive, Maxus
VW Beetle Abbey Road Sessions, MediaCom
Travel & Leisure
Paddy Power - Sky Tweets, M2M
Visit England and The Guardian, MediaCom
The Emirates Air Line - Emirates Airline's sponsorship of the UK's first urban cable car, SMV Group
Halo 4 Pizza, SMV Group
Air New Zealand Blind Gate, Vizeum UK
Media Owner categories
Cross Media Sales Team of the Year
Bauer Media
Channel 5
Global Radio
Guardian Media Group PLC
Metro
Digital Sales Team of the Year
Millennial Media
PERFORM
Outdoor Sales Team of the Year
CBS Outdoor
Clear Channel UK
JCDecaux
Ocean Outdoor
Print Sales Team of the Year
Mail Newspapers
Metro
Radio Sales Team of the Year
Absolute Radio
Bauer Media
TV Sales Team of the Year
Channel 4
Channel 5
ITV plc
The Judges Product Sector Categories (pictured above)

Back row (from left) Ben Hayes founding partner, Goodstuff; Steve Gladdis managing partner, joint head of challenge and inspiration, MediaCom; Stuart Newman head of marketing and new business, Carat; Kathleen Saxton founder, The Lighthouse Company; Ed Couchman UK sales manager, Facebook; Richard Morris managing director, Vizeum; Stuart Bowden managing director, MEC Global; Matthew Hook chief strategy officer, Carat; Tim Hipperson chief executive, ZenithOptimedia UK Group; Richard Oliver head, Magna Global UK; David Brennan founder and managing director, Media Native; Rian Shah managing partner, OMD; Norm Johnston chief digital officer, Mindshare Worldwide; Barnaby Rothwell director, promotions, Disneymedia+ EMEA, Disney; Chris Hayward head of investment, ZenithOptimedia; Frances Ralston-Good chief innovation officer, PHD; Russell Davies creative director, Government Digital Service; Tim Irwin chief operating officer, Maxus UK. Front row (from left) Vanessa Clifford client services and strategy director, Newsworks; Mark Jarvis director, the7stars; Simon Rees chief executive, Digital Cinema Media; Phil Georgiadis chairman, Walker Media, and chairman of the judges; Pippa Glucklich chief executive, Starcom MediaVest Group UK; Matt Teeman commercial director, Metro; Martin Greenbank head of intelligence, Arena; Damon Lafford head of agency sales, Channel 4