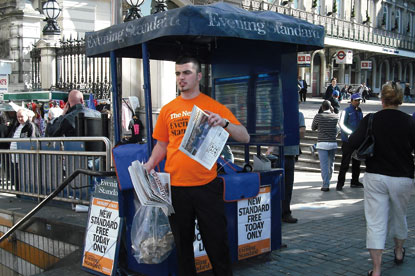 The paper is also considering dropping its early afternoon edition, News Extra, and moving its West End Final evening edition, which goes to print at 2pm, to a later slot.

The distribution changes are planned for January, while the planned boost in circulation to 800,000 copies is expected later in 2010.

The move comes as the Standard struggles with supply problems and follows reports that distributors frequently run out of copies of its evening edition.

The Standard went free in October and upped its daily distribution to 600,000 copies from around 250,000 when it was a paid-for title.

The paper has had a monopoly on the evening freesheet market since the closure of London Lite this month.

The other free evening title in the London market, News International's thelondonpaper, was folded in September.

The Standard's move to the freesheet market followed the acquisition of a majority stake by Alexander Lebedev in February.

Earlier this month, the paper's editor, Geordie Greig, revealed it had slashed its distribution costs from 30p a copy to 4p since going free.