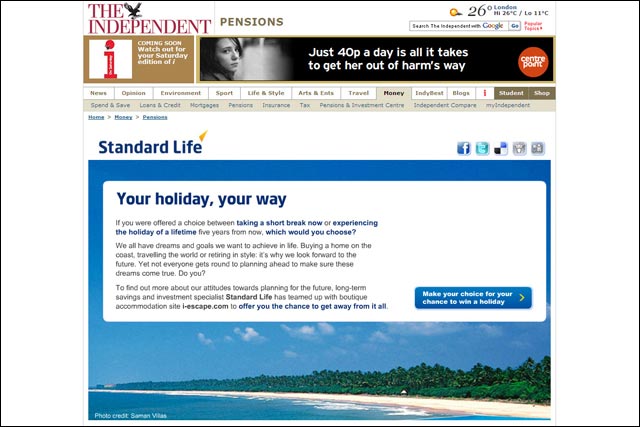 The financial services brand, which recently launched a new visual identity, has launched print and digital ads to promote a competition that asks consumers whether they would rather win a short break this year, or a "holiday of a lifetime" in five years' time.
When arriving at the co-branded microsite, consumers are asked whether they are "planning ahead" to ensure sure their "dreams come true". By voting in the online poll, consumers can then win a holiday provided by travel company i-escape.
Jo Coomber, head of marketing communications and group brand at Standard Life, said: "We've launched our holiday poll and prize draw to encourage people to stop and think about their attitude to planning ahead and achieving their long-term goals. We chose a holiday as the theme as it is something that everyone can visualise and relate to."
In February, Standard Life unveiled a new brand logo and strapline – 'The Way Forward'. The updated branding, by JKR, uses the Standard Life name in a white font against a blue background, with the strapline in yellow text below.
The brand also recently promoted Bruce Kelsall to the role of group marketing director, following the decision of top marketer Simon Gulliford to step down.
Kelsall, who joined Standard Life in January 2010, previously held the role of commercial director at Barclays' UK retail banking division. He has also consulted for a number of brands, including Experian and Santander.