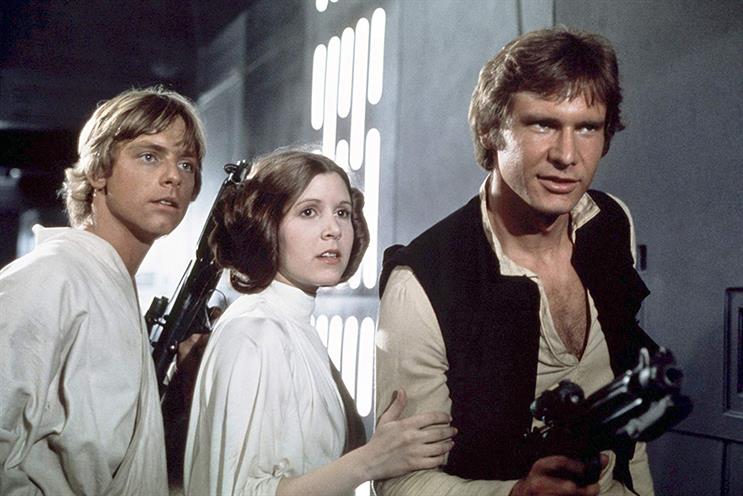 Steve Aldridge
Chief creative officer, Wunderman Thompson UK
Campaign ran a lookalike years ago with me and Chewbacca! So I can't change now. He's got great hair – need I say more!
Rafe Blandford
Chief product officer, Digitas
My brilliant and talented tech team at Digitas occasionally refer to me as C-3PO. I'm hoping this is mainly about the acronym, but to be fair my job does sort of involve human/cyborg relations and I do worry about things quite a lot. I try to live up to C-3PO's positive characteristics of loyalty, kindness and being sensitive to others' needs, but I'll also admit I sometimes channel my inner Emperor Palpatine and aim for galactic domination.
Catherine Borowski
Founder and creative director, Produce UK
Han Solo – he definitely looks like he has all the fun, plus he's handsome and all the girls love him. He's a survivor, he's super-cunning. On the outside, he comes across as being hard as nails, but I think he's a big softie at heart. He's got a wonky big nose and I quite fancy men with wonky big noses, but that would be strange because I'd be fancying myself.

Rob Campbell
Executive strategy director EMEA, R/GA
The problem is, while I'd probably say I'm the Millennium Falcon – old, a bit broken, with a history of flying by the seat of my pants – if you ask my clients or colleagues, they'd probably suggest I'm Darth Vader for basically being a bit of a prick with a short fuse. And breathing difficulties after climbing a set of stairs.

Raquel Chicourel
Chief strategy officer, M&C Saatchi
[Warning: this answer contains a Game of Thrones spoiler]
Forty years ago, Princess Leia was a strong female role model, but she was still the supporting act. I choose Rey because she is not only the first female lead Star Wars character but also because she is making a galaxy (… far, far away) better not by imitating men, but by embracing the best of womanhood. She doesn't use brute force; she outsmarts her opponents. She's not cold, she's emotional, which gives her empathy and EQ to rally people behind her. In a time when Arya Stark kills the Night King and Rey saves the galaxy, let's all stand up and embrace a different way.

Richard Dunn
Chief strategy officer and chairman, Wunderman Thompson UK
R2-D2. I can solve most problems and like to see myself as the consummate wing man. And there is more than a passing resemblance!

Amanda Farmer
Managing director, VMLY&R London
Princess Leia. When I was seven years old, I had two best friends: Nicky and Tom. Nicky had an Ewok Village playset and all the Star Wars action figures. I had one: Princess Leia in Boushh disguise when she impersonated Boushh in an attempt to negotiate with Jabba the Hutt about the price of Chewbacca. My seven-year-old self was in awe of her bravery and selflessness to risk her own safety for others. We spent hours playing Star Wars and inventing new adventures, with Princess Leia Boushh always saving the day.

Chris Gallery
Partner, Mother

You can't argue with Emperor Palpatine's strategy and almost flawless execution of a plan for not just a global campaign but a galaxy-dominating one. Questionable choice of planet-destroying launch stunt, but I'm always looking for creative fireworks at launch, so I'll take some risks. Mind tricks, manipulation, creating a healthy climate of fear among colleagues… all in a day's work.

Amy Kean
Head of strategic innovation, Starcom
This is the easiest answer I've ever had to give: Darth Maul. He's the most innovative character in the Star Wars universe. Not only did he introduce the double-ended lightsaber (game-changer), but in later life he has terrifying robot legs too. No other Star Wars villain has embraced technology to such an extent; this guy knows his shit. He can probably code too. And, to top it all off, he barely speaks. When you're that impressive, you don't need endless guru chatter – you let your bright red hologrammatic blades and mechanical limbs do the talking.

Dara Nasr
UK managing director, Twitter
Ever since I was young, Star Wars has played a big role in my life. In fact, The Empire Strikes Back was the first film I ever saw at the cinema. Truth be told, I didn't really see that much of the movie as I left sobbing after about seven minutes – I was only four years old.
Remarkably, there was something about Star Wars that had me hooked. While I was born at the perfect time to be a fan, some moments really stand out.
I remember going to watch Attack of The Clones on Thursday 16 May 2002. It was the global release date and I went with two pals from Ids (Leebo and Derren) at the first possible showing – midnight. We were wearing our work clothes – cheap suits and cheaper ties – and everyone else was dressed up like Chewbacca or Darth Vader.
More recently, since the new films have been released around Christmas, it has become a tradition that my oldest daughter and I go to the cinema to watch the new offerings together. Watching her marvel at it all makes me so happy. Star Wars has given us something profoundly special. My daughter's first impression of female roles were mainly princesses or in non-action roles. In that sense, Star Wars has played a major part in breaking down the gender stereotypes that have been around for eons.
So, for that reason, my favourite character is the kickass Rey played by the magnificent Daisy Ridley However, if you are asking who I would be, it would be an Ewok, probably a chap called Wicket, who is a good egg.
Larissa Vince
Managing director, Saatchi & Saatchi London

Look, I don't love Star Wars particularly. But there's one character I like a lot. Padmé Amidala, the fiery leader of a planet, mother of Luke Skywalker, who then becomes a senator, is handy with a pistol and seems to hate pointless meetings as much as I do. "I was not elected to watch my people suffer and die while you discuss this invasion in a committee" pretty much sums up our take-no-prisoners attitude to decision-making here. Plus, she has the ability to see the good in everyone – so much so that she married Darth Vadar. Some might see that as madness. But, you know, everyone has a good side – sometimes you just have to look for it.
Vicki Maguire
Chief creative officer, Grey
On a good day, I'm R2-D2: loyal, plucky and the brains behind the boldest of missions. After a pitch, I'm Chewbacca.

Omar Oakes
Global technology editor, Campaign
If it's possible to a have a fictional soulmate, mine is Admiral Ackbar (may he rest in peace). The Rebel commander is best known for that scene during the big battle when he swivels round in his chair and screams: "It's a trap!" I often find myself compelled to perform similar exhortations when writing about tech… I can only hope my own death is greeted with as much fury and indignation as Ackbar's, following his untimely demise in The Last Jedi.

Yasmin Arrigo
Digital director, Campaign
The undisputed best Star Wars character is Boba Fett, a creature of mystery. Quiet yet deadly – the most feared bounty hunter in the galaxy. Nobody crosses Boba Fett. He only says about four lines and doesn't notch up much screen time, but enough to create decades of intrigue and garner legions of fans across generations. A compelling strategy.
OK, so his family history is a little odd and raises some interesting questions around genetic cloning, but he has the coolest kicks in town, he overcame the man-eating pit that is the Sarlacc according to the Star Wars canon and he can fly. Kind of.