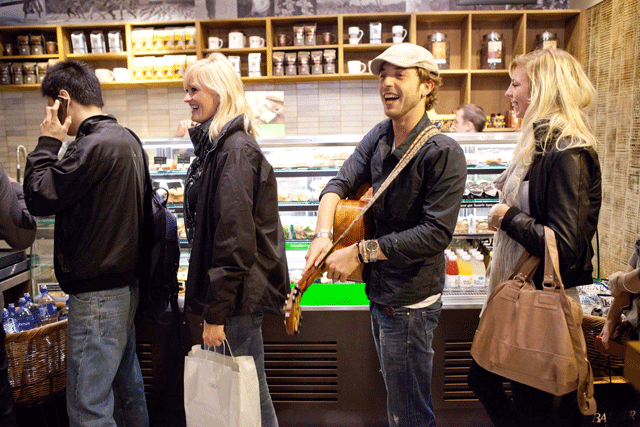 The marketing initiative is being rolled out across all Starbuck's UK outlets from today (17 October) as the coffee chain moves to expand its offering beyond its core coffee roots.
It also comes as Starbucks looks to up the ante against rival coffee chains, such as Costa Coffee, on the nation's high streets.
The chain, which is currently looking for an agency to oversee its customer marketing, recently unveiled that it would be offering its customers high-speed, free-of-charge Wi-Fi to persuade them to spend more time in its outlets.
Its 'Pick of the Week' initiative means that Starbucks customers can download a free iTunes music track.
The first track on offer will be James Morrison's 'In My Dreams'. The initiative will also include a number of selected books. Future music stars signed up include Coldplay, Tony Bennet, Norah Jones and The Kooks.
Brian Waring, Starbuck's marketing director, said that 'Pick of the Week' was set up to "recognise" and "reward" customers.
The initiative has already been running in the US.
In the UK, Starbucks will be hoping that its customers will buy its drinks while downloading a book or music track, although customers do not have to make a purchase to use 'Pick of the Week'.
Customers who want to download the book or music track are given a code to do so.
Starbucks is supporting the rollout of 'Pick of the Week' with press advertising. A press ad running in the Metro, states: "Every Monday this autumn, pop into Starbucks for your free download on iTunes."
Follow John Reynolds on Twitter @johnreynolds10