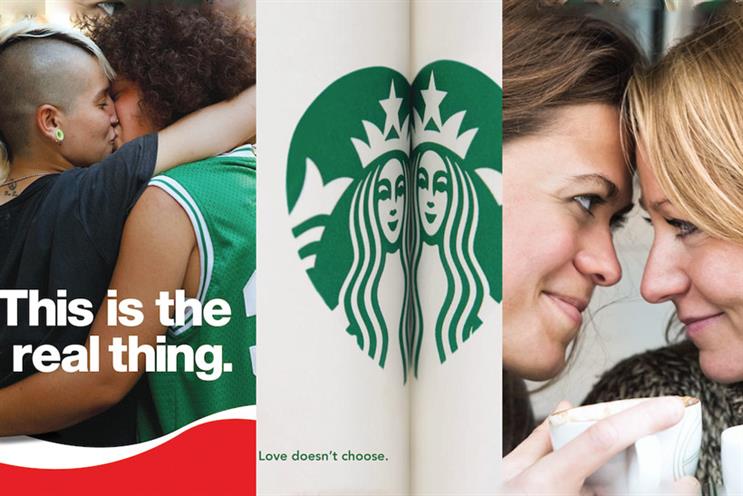 Omnicom content agency Drum took first place for its mock Starbucks ad, which depicts two cups held together in a way that appears to show two of the coffee chain's siren mascots in a heart.
Iris was also commended for its rethinking of Coca-Cola and Gold Blend ads.
The contest was created by PrideAM – the world's first LGBT+ group for the marketing and advertising industry – and Europe's only mainstream lesbian and bisexual magazine, Diva.
The magazine reads: "Diva and Pride AM's Scott Knox asked agencies to re-engineer an ad from the past or present, whilst ensuring no intellectual property infringement, to demonstrate that heteronormative assumptions about lesbians and bi women have no place in a forward-thinking advertising culture."
"There are no prizes for guessing why patriarchal orthodoxy still reigns – heterosexual men often head up the top jobs and still control what we are permitted to see," said Diva's editor Jane Czyzselska.
"In launching our competition we hoped we'd shake things up a bit in the industry, which seems uncharacteristically coy where LGBT consumers are concerned."
Commenting on Drum's winning ad, Scott Knox, the managing director of the Marketing Agencies Association and founding president of PrideAM, said: "It would be great to see Starbucks roll this out internationally.
"As a simple campaign idea it would really catch on and add the Starbucks might to the growing list of corporate names supporting the LGBT+ equality agenda."