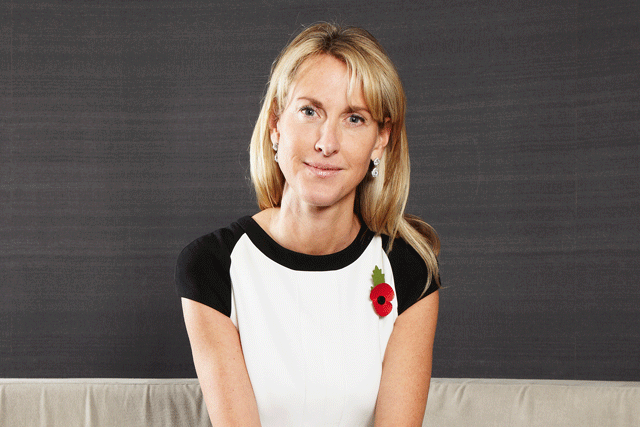 I'm taking my daily (OK, maybe two or three a day) soya lattes a lot more seriously these days, with my new VP role in charge of marketing, category, design and brand experience for EMEA at Starbucks.
My first five months at the company have been amazing, including a reorganisation of the EMEA marketing and category team; barista training in our Holland Park store, diligently trying to perfect a flat white alongside some amazing partners; relocating to Amsterdam; and going through regional leadership changes... and then there's the whole business of coffee-bean-growing (technically called "cherries" before they are sun-dried and husked), sourcing and roasting from beautiful, warm places as diverse as Sumatra, Ethiopia and Guatemala. Some of our partners even took a trip to Rwanda in April to experience our commitment to ethical sourcing and our Coffee and Farmer Equity (CAFE) practices work with Conservation International first-hand, to help the community build a much-needed health clinic.
One of the coolest Starbucks traditions is that we start our meetings with a coffee-tasting - whoever hosts the meeting gets to pick the coffee. We also recently made available in store a second espresso, alongside our original espresso roast, that our customers can try seasonally in their favourite drink, with beans coming from a single-origin source (Guatemala Antigua and Kenya so far).
Meanwhile, with my wheelie bag in tow, I'm quickly getting to as many markets as I can (13 done, 23 to do), seeing more than 100 stores and listening to as many partners as possible. In May, I took my first visit to the Middle East for Starbucks to meet our partner, the franchise operator Alshaya (it also runs the Harvey Nichols brand in the Middle East), which just celebrated its 15th anniversary with Starbucks in the region.
In Kuwait, I checked out my design team's work on a renovated store in the Marina Mall. The store-design team spends time studying the local environment and culture and uses this for inspiration, in many cases working with local artists, to create one-of-a-kind stores.
In Saudi, there are two of our stores that are separated by a divide in each of our locations - essentially mirror images - to respect the local way of life, while sharing the experience people expect from Starbucks.
Some of the recently opened stores include a tribute to Dutch trading practices with a store in the Amsterdam Flower Market, contemporary steel work in the Berlin Sony Center, beautifully restored old paintings and brickwork in Paris' Place du Tertre and stunningly chic tile work in the city's Avenue Victor Hugo.
A first for me on the Middle East trip was sporting the full abaya for my visit to Riyadh (and yes, you can get away with wearing pyjamas underneath). They had to sneak me in to check out the "singles" (aka mens') area of our stores, as "ladies" and families have a separate entrance. In Saudi, there are two of our stores that are separated by a divide in each of our locations - essentially mirror images - to respect the local way of life, while sharing the experience people expect from Starbucks.
I also discovered a new form of match-making on my visit to Dubai. When we introduced "names on cups" in March 2012, we wanted to help create more of a personal connection between our baristas and customers... well, in Dubai, our customers have used our names on cups to create a whole new way of making a personal connection.
Here's how it works. 1. Get a coffee in our stores (Dubai favourites seem to be iced shaken doubleshot with extra white chocolate, as well as the new triple caramel frappuccino). 2. Grab a seat at one of our tables. 3. Strategically position Starbucks cup so name is facing outward. 4. Turn on Bluetooth on your mobile phone, and then... 5. Wait to see who makes contact. Who knew telecoms and coffee went so well together?
When done right, the Starbucks experience crosses borders and can create true moments of connection between our partners and our customers... or between customers.
As I write this, I am on my way to Seattle, hometown of Starbucks. I've been asked to be part of the worldwide innovation council, and I'm also going to meet our new global chief marketing officer Sharon Rothstein, who recently joined us from Sephora. I'll also spend some time with Adam Brotman, who runs our global digital team, as we are working to bring to life our aspiration to be the best online barista through our digital, social and mobile channels across the region.
Later this month, I am off to Jordan to see our commitment to youth and community in action. One of the things I am most passionate about is Starbucks' involvement in the community as a force for positive change. In Jordan, we created a partnership called BADIR (which means "initiate" in English), with the International Youth Foundation, to empower and coach young social entrepreneurs.
As my journey carries on, I will continue to learn and be inspired by all I experience and I will keep in mind the words of Howard Schultz, our chairman, president and chief executive: "We are not in the coffee business serving people. We are in the people business serving coffee."