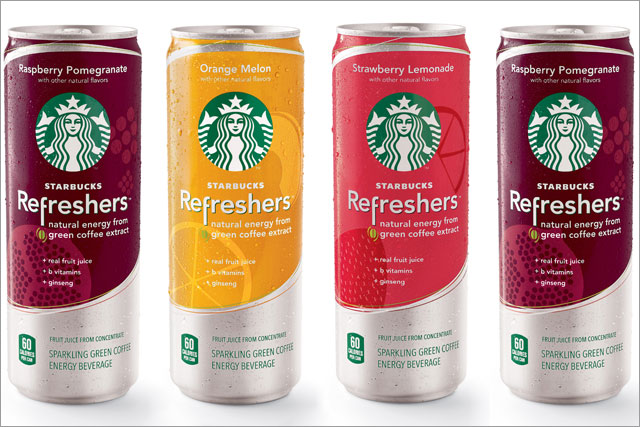 The coffee chain claims Starbucks Refresher beverages will deliver "thirst-quenching refreshment" from real fruit juice and a "boost of natural energy" from green coffee extract.
The green coffee extract is unroasted, which Starbucks claims will result in a mild and fresh flavour, while retaining natural caffeine.
The products are currently available in the US. It is not yet clear whether there will be any marketing activity around the launch.
The news comes shortly after Starbucks announced it is making a bid for the luxury home coffee-machine market with a device it has branded Verismo, to compete with Nescafe's Nespresso and other kitchen espresso makers.
Other recent expansions at the coffee chain include the acquisition of juice brand Evolution Fresh in November last year, and the launch of 200 drive-through shops.
Britvic's recent Soft Drinks Report showed the glucose and stimulants drinks market in the UK increased by 17% in value to £791.8m overall.
Red Bull, the energy drink, showed the biggest rise in value of 11% to £224.8m, making it the fifth-most-popular UK brand in the take-home market.
Follow Sarah Shearman on Twitter @Shearmans