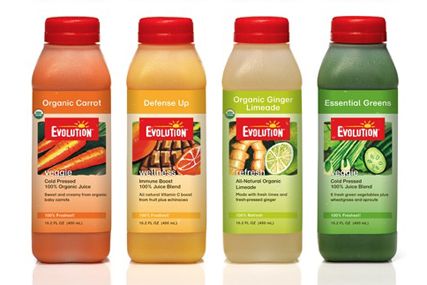 Evolution Fresh sells premium fruit juices, fresh-cut vegetables, gourmet soups and salsas.
One of its key selling points is that Evolution Fresh peels, presses and squeezes its own raw fruits and vegetables when making its products. Its drinks include organic ginger limeade and tangerine juice.
Evolution Fresh was set up by Jimmy Rosenberg, who also founded the Naked Juice brand.
The move by Starbucks comes amid a growing demand from consumers for healthy products.
Rivals such as McDonalds and PepsiCo have made a concerted effort to push their health credentials in recent years.
Starbucks will sell the products through grocery stores, Starbucks coffee shops and an as yet unnamed new line of stores which it will open next year.
It is looking to make inroads into the premium juice business, valued at $1.6bn in the US, as the market for coffee shops is at near saturation point.
Starbucks announced its acquisition in a blog posting and has asked its fans to give feedback on the acquisition.
The move is unlikely to impact on Starbuck's UK business.
Follow John Reynolds on Twitter @johnreynolds10