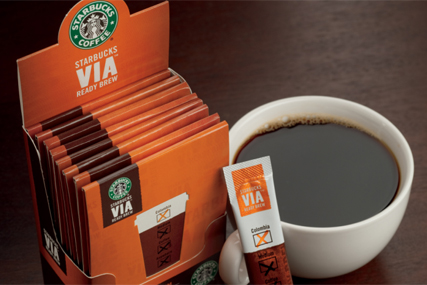 Schultz commented about plans to extend the Via brand, when he updated the City on Starbucks' performance.

The new variant, Starbucks Via Decaf, will be available in the Italian Roast variety from 31 March, adding to the existing variants Columbia and Italian Roast.
Starbucks Via Decaf will initially be sold in Starbucks outlets, but is planned to be sold in multiples in the near future, like the existing variants.
Earlier this month, Starbucks announced the rollout of Via in the UK, claiming it to be "the first innovation in the instant category for decades."
At its annual general meeting, the company cited its financial push behind the Via brand, saying it would be extending to it to more than 30,000 distribution points in the near future. It did not give specific details of the countries targeted.
Commenting on the group's business performance of late, Schultz also gave an indication that growth would come from outside its core Starbucks store business.
He said:" We have already proven that we can innovate and build mutlibillion-dollar businesses and brands through our stores – success stories like our Frappuccino and Tazo brands demsontrate this. We will now leverage this experience and expertise to build new business and brands beyond out stores."
The company did not disclose specific profit and loss figures of its financial performance. However, it did say it was to buy back 15 million shares, in addition to the 6.3 million shares the company still has remaining to purchase under a previous buyback agreement.