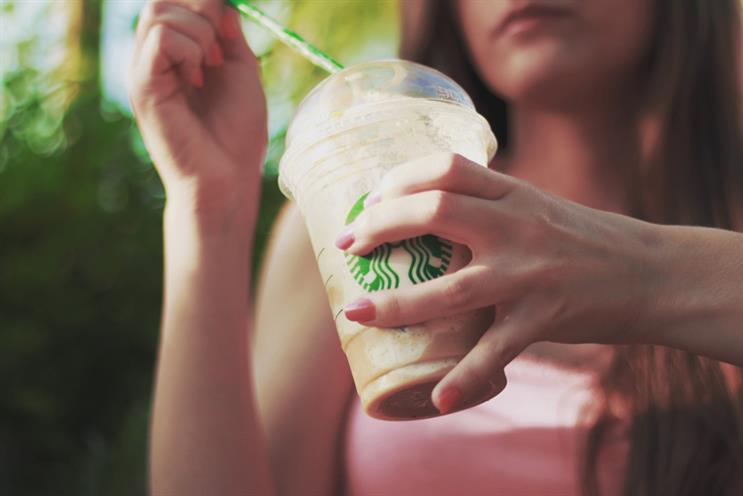 The lead plaintiff in the case, Stacey Pincus, filed a suit against the coffee chain at Northern Illinois Federal Court in Chicago last week, Courthouse News reports.
Pincus said that the volume of liquid in the coffee chain's cold drinks was sometimes little more than half of that advertised, because of the ice included. Starbucks provides the volume of each of its serving sizes in fluid ounces in its US stores - but Pincus said these figures were really only the size of the cup, rather than the drink.
Starbucks said the case was "without merit" because consumers understood that ice was a fundamental part of an iced drink.
But Pincus said that Starbucks could serve its cold drinks in larger cups that would allow room for the advertised volume of liquid, plus ice. The company advertises four sizes on its menu - tall, grande, venti and trenta - which are 12, 16, 24 and 30 fluid ounces respectively (354- 887ml).
"A Starbucks customer who orders a Venti cold drink receives only 14 fluid ounces of that drink — just over half the advertised amount, and just over half the amount for which they are paying," the complaint states.
"In essence, Starbucks is advertising the size of its cold drink cups on its menu, rather than the amount of fluid a customer will receive when they purchase a cold drink — and deceiving its customers in the process."
Starbucks spokesperson Jaime Riley said that it was "aware of the plaintiff's claims, which we fully believe to be without merit."
"Our customers understand and expect that ice is an essential component of any 'iced' beverage," said Riley. "If a customer is not satisfied with their beverage preparation, we will gladly remake it."
Steven Hart, the lawyer acting on behalf of Ms Pincus, said the final figure for damages could be considerably higher than $5m, if the case is successful.