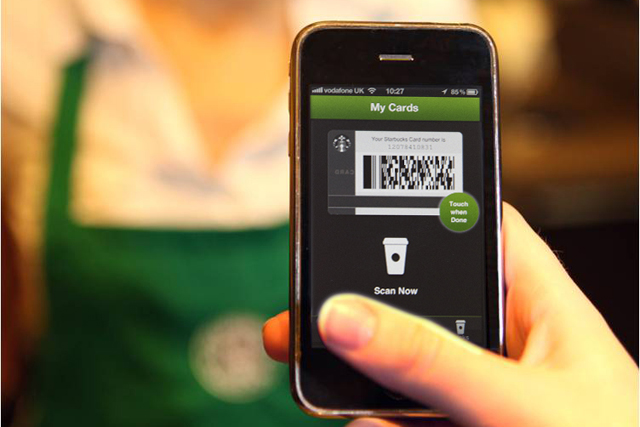 Square, which was founded two years ago, processes transactions between merchants and customers, enabling small businesses who do not accept cards due to transaction fees, to accept payments on their Android, iPhone or iPad devices, using a small reader.
It also offers a mobile payments app, which users pre-load money onto and which allows them to pay at registers with a tap of their phone, positioned as an alternative to near field communication (NFC) technology.
The partnership, which includes a $25m investment from Starbucks as part of an investment round, will see Square process all credit and debit transactions in its US stores.

Starbucks customers will also be able to use the Pay with Square app in Starbucks's US stores, later this year.

Starbucks's chief executive Howard Schultz will join Square's board.

Starbucks has not indicated whether the partnership will roll out to the UK, as Square is currently only available in the US.

Starbucks already embraces mobile payments technology and has an app which allows users to pay using their phones, locate stores, and check rewards points.

The deal will significantly extend the reach of the payments, company, which competes with eBay's PayPal and Google Wallet in the US.

Schultz said "The evolving social and digital media platforms and highly innovative and relevant payment capabilities are causing seismic changes in consumer behaviour, and creating equally disruptive opportunities for business."

Jack Dorsey, co-founder and chief executive of Square said: "More than two million individuals and businesses can already use Square. This partnership will accelerate our ability to provide them with the tools they need to grow their business and thrive in today's economy."

The mobile payments market is hotting up in the UK, with O2 recently launching a Wallet service to take on PayPal. However, NFC payments are yet to reach the mainstream and Google has yet to launch its Wallet service in the UK.
Follow @shearmans