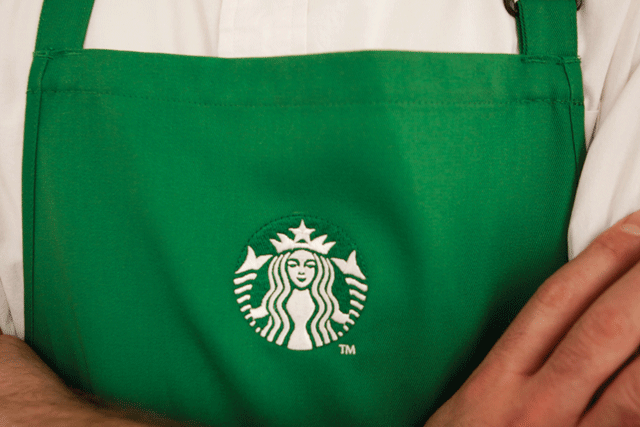 The move will challenge the dominance of McDonald's, which currently sells the most coffees in the UK.
Starbucks claimed its new drive-thru stores "will bring new levels of comfort and environmental performance to the roadside".
The Seattle-based coffee chain says the move is designed to deliver quality coffee on the road, with research from Allegra Strategies showing consumers think coffee on the road is currently "very poor".
Kris Engskov, managing director of Starbucks UK and Ireland, said: "Customers told us that they now expect the best possible coffee wherever they are, and the success of our first drive-thru stores shows that this is a huge opportunity."
Starbucks already has nine drive-thru outlets in the UK, having opened its first in Cardiff in 2008.
Around half of the new stores will be operated under licence by petrol forecourt retailer Euro Garages.
The majority will open in the Midlands and the north of England.
Starbucks is looking to expand the reach of its coffee by agreeing licences to sell it on trains, planes and in supermarkets and workplaces.
In 2010, Starbucks opened 35 motorway stores in partnership with Welcome Break and said it sold seven million cups of coffee in the first year of operation.
Starbucks rival Costa Coffee recently announced plans to open 75 drive-thru outlets and, in the spring, ventured into coffee-vending machines by buying Coffee Nation, later rebranding it Costa Express.
Starbucks claimed that over the next five years, the new stores and additional conventional stores will create 5,000 new jobs.
Prime Minister David Cameron said the new stores would be "a great boost for the British economy and the local communities that will directly benefit from these openings".
Follow Matthew Chapman at @mattchapmanUK