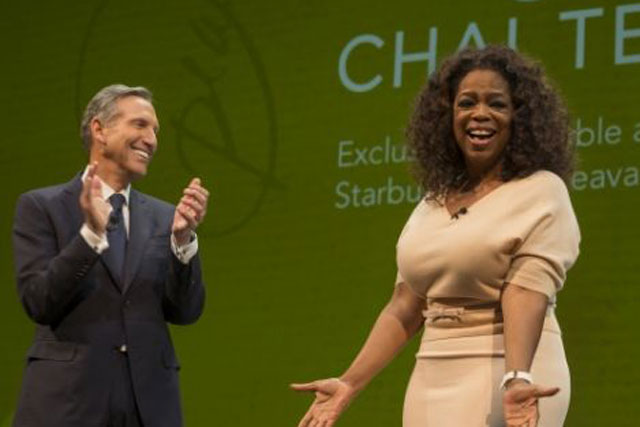 The partnership was announced at the Starbucks annual meeting in Seattle, where Winfrey took to the stage alongside Howard Schultz, chairman and chief executive of the coffee chain.
It is part of Starbucks' aim to conquer the global tea market, valued at $90bn.
Schultz claimed that "with the introduction of Teavana Oprah Chai, we are going to elevate the tea experience in the same way we did for coffee."
The new product will be available in America at Starbucks' Teavana stores from the end of April. It bought the retailer at the end of 2012, and aims to expand the brand globally in the future.
Winfrey has personally developed the tea alongside Teavana. The tea features an infusion of cinnamon, ginger, cardamom and cloves. Proceeds from sales will go towards Winfrey's Leadership Academy for Girls, a South African boarding school.
Schultz gave over his day-to-day duties as chief executive to Troy Alstead, Starbucks's chief operating officer, last month, to focus on "next generation" retail opportunities.
Starbucks revealed its updated mobile app yesterday, while it continues to work on a smartphone service that would let customers order coffee before they get to a store, through their mobile devices.