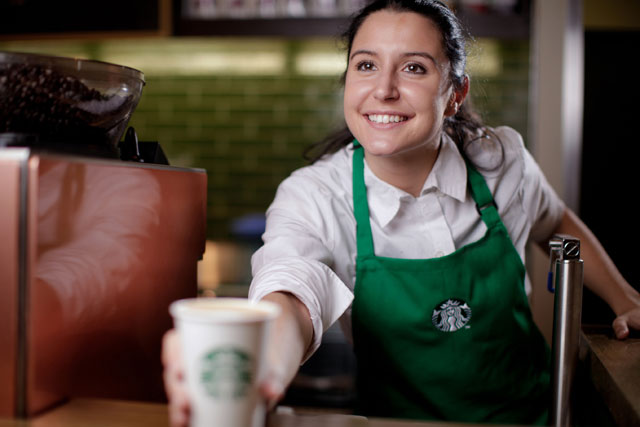 From 14 March, Starbucks latte will contain more Fairtrade espresso at no extra cost to customers, while a new approach to steaming milk will give it a smoother taste.
Starbucks said it noticed UK customers adding more coffee in recent years – a 60% rise in the past two years to 200,000 extra shots every week.
Customers who prefer the existing milder taste will still be able to have their drink made as exactly as before.
The campaign to announce the change will comprise TV, print and digital and will invite customers to try the relaunched latte for free.
In extensive trials, British coffee drinkers said they liked the richer taste, the extra value and the new milk texture.
They also said they preferred the new recipe and appreciated the value of the extra coffee worth 35p for free.
The move means that now their coffee will be 14% cheaper. Tall-sized lattes, cappuccinos and all other espresso-based drinks will also get an extra shot of coffee, as will the largest Venti size of espresso drinks.
Kris Engskov, managing director for Starbucks in the UK and Ireland, said: "Britain has become the home of the latte and it's the country's most popular coffee shop drink.
"At the same time, the British palate is changing we can see that in the way our customers are ordering their coffee.
"They're becoming more experienced, more sophisticated and many more are looking for a stronger taste. This is a big move and a big investment, but our feedback shows that this UK-only change is the right thing to do for British customers."
This change is part of a Europe-wide initiative to cater as closely as possible to local taste preferences.
In another world first for Starbucks, customers in France will be offered a choice of two different espresso blends – a full-bodied dark roast or a lighter roast option.
All 10,000 UK baristas have been trained over the last three months to use a new milk steaming pitcher which spins and folds milk – allowing coffee to rise through the milk.