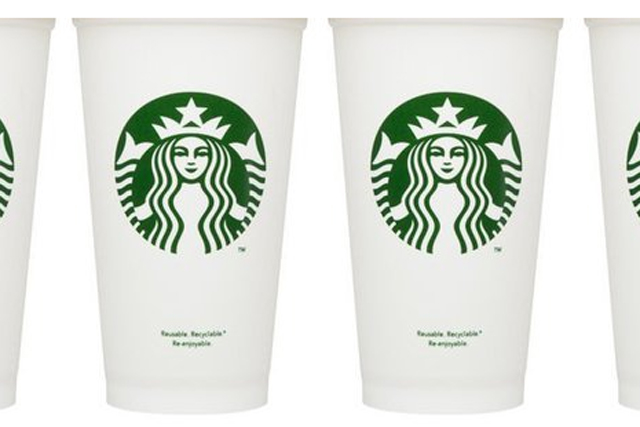 The coffee chain is introducing a reusable cup, which, when used by customers, will entitle them to discounts on drinks. The scheme will be supported by digital and in-store marketing.
It comes as Starbucks looks to improve its corporate reputation, after taking a hit over the tax avoidance issue.

Other initiatives to help mend its reputation include a charitable initiative called Suspended Coffee.

The Starbucks reusable cup, made of a material lighter than Starbucks ceramic tumblers, costs £1. Customers who use the cup will receive a 25p-off discount.

Starbucks already sells a reusable cup, but the initiative marks the first time that it has used it for promotional purposes.
Starbucks is marketing the initiative via its UK website and in-store.

As part of the project, Starbucks will donate an additional 25p to the charity Project Waterfall each time a customer uses their reusable cup during Coffee Week, which runs from April 22 to April 28.
Project Waterfall is a charitable initiative which aims to deliver clean water projects in coffee-producing African countries.
Ian Cranna, vice-president of UK marketing for Starbucks, said: "Between 2008 and 2012, the number of people using a Starbucks reusable tumbler increased by 235% and out new reusable cup is a low-cost, high-impact way to help make a difference on reducing waste."