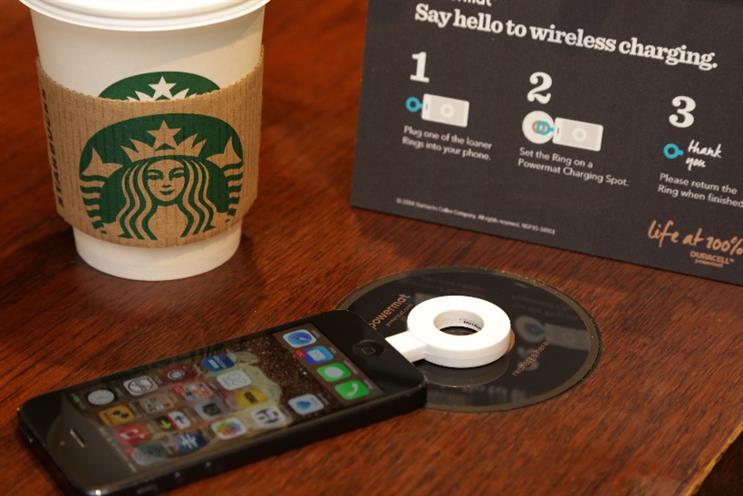 The coffee retailer intends to attract smartphone owners frustrated by low battery life, who want to recharge their devices for free.
The technology primarily hinges around plastic USB charging rings, which can plug into any smartphone. Customers can then lay their smartphone on a charging point at their table to boost their device's battery life.
The technology has been available in the US since 2012 but Starbucks is only now introducing the service to its UK outlets.
The firm is expanding its existing partnership with wireless charging start-up Powermat, and the pair will install wireless charging points in 10 stores across London's West End by the end of January.
How it works
Customers who visit one of the 10 outlets with depleted battery and caffeine levels can borrow a charging ring for free or buy one for £9.99.
The rings are compatible with all smartphones fitted with micro USB ports, as well as iPhones.
Technical barriers mean that charging points will only be installed on the larger tables, such as those positioned by the windows. Individual tables around the café will not have charging points.
According to Starbucks' marketing vice-president for EMEA, Ian Cranna, the idea is to "reduce stress" and keep customers in store for longer.
He told Marketing: "We've always been looking for ways to make customers' lives easier in-store, and remove any stress they have in-store."
One barrier is getting customers to actually use the technology, since wireless charging is still unusual in the UK.
Starbucks has placed placards close to the charging points explaining what the technology is and how it works. Baristas in the 10 stores have also been trained to answer consumer questions.
More innovation to come
Cranna hinted that the coffee chain would consider introducing more innovations from the US, such as order and pay.
The click-and-collect style service allows customers to order their coffee before arriving to pick it up in-store, but is currently only available in the US.
He told Marketing: "There's a very successful trial of mobile ordering and paying in Portland, that's going very well.
"If it's something that makes it easier for customers to order and get coffee, then that's interesting for us."
UK customers could also see the introduction of dedicated Starbucks Reserve stores, featuring upmarket décor and only serving the brand's premium coffee.
Starbucks recently opened its first dedicated Reserve store in Seattle, and plans to open 100 further stores.
Cranna said: "The Seattle store is a showcase piece for us. I haven't seen it since it has been opened, but I will see it in real life. We will be learning from that."
Last year the brand outlined a $30bn five-year revenue plan that includes building out the Starbucks Reserve brand and investing in digital innovations such as ordering coffee to be delivered.
Read next