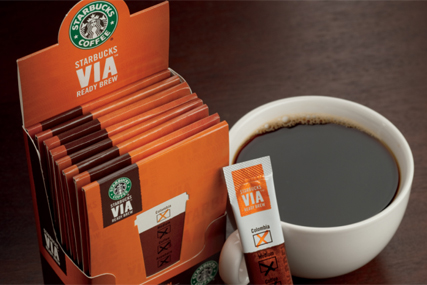 Via's nationwide distribution from 8 March (Monday), will be backed by a print and online campaign by AMV BBDO.

Brian Waring, UK marketing chief, said: "This opens up a whole new market for us. It is one of the biggest things we have done."

Starbucks claims that sales exceeded expectations during the trial.

Via will initially be sold in Starbucks stores, but will later be rolled out in supermarkets and grocery stores.

As part of the marketing campaign, Starbucks will hold a Taste Challenge weekend in its stores across the UK between 12 March and 15 March – inviting consumers to taste Starbucks Via and compare it with Starbucks filter coffee.

Starbucks Via is sold in single-serve packets in boxes of three or 12. It will be initially sold at the introductory price of £1.20 for a three-pack and £4.45 for a pack of 12. Those who take part in the Taste Challenge will get a discount.

Darcy Willson-Rymer, managing director of Starbucks UK and Ireland, said: "Starbucks Via is the first innovation in the instant coffee category for decades, and sales from our trial shows that customers who have tried Starbucks Via are repeating their purchases.

"With instant making up more than 80% of coffee drunk at home in the UK, the opportunity to create a new premium segment in the market is considerable."