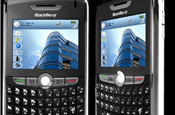 Manning Gottlieb OMD holds the business in Europe, including the UK, where billings last year were £5 million. SMG is the incumbent on the account in the US.

MG OMD won the business in November 2005 after a two-way pitch against the Aegis-owned Carat.

MG OMD was the first media agency to handle the account, as BlackBerry had previously relied on PR, word of mouth and mobile phone promotions to push its services.

In January this year, Orange offered the UK's first pay-as-you-go BlackBerry device, the Pearl 8120, to meet the growing demand for a pay-as-you-go smartphone.

The latest TV ad campaign for the touch screen BlackBerry Storm launched in November last year.

The ad, by Bartle Bogle Hegarty, features a couple watching a film on a large screen TV.

The woman discovers she has to go out and reduces the screen size to that of a BlackBerry, removes it from the wall and leaves. She continues to watch the film on her BlackBerry Storm in a taxi.