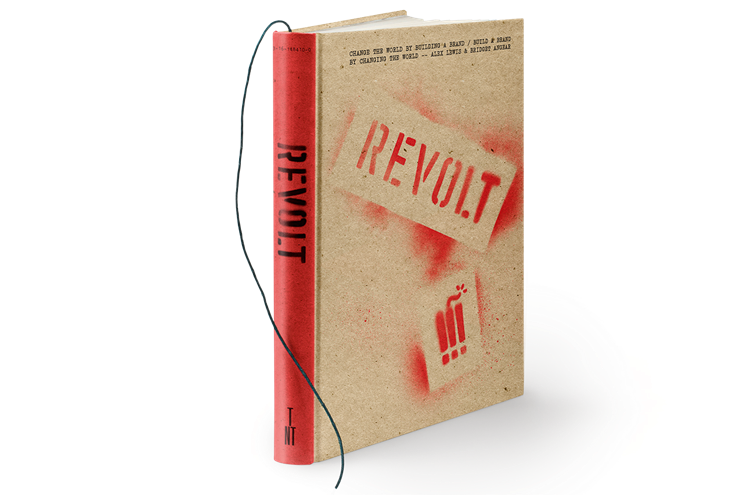 Bridget Angear, joint chief strategy officer at Abbott Mead Vickers BBDO, and Alex Lewis, former head of planning for BBDO EMEA and co-founder of new agency Revolt, have helped create some of the most inspiring change movements in recent years: cutting the number of deaths on the roads, fighting childhood obesity and leading the push to Make Poverty History.
They have studied countless more in order to decode how and why they work, and produce a blueprint for creating a successful one.
Their book, Revolt, is the result of more than a decade of their experiences. It's a practical toolkit for any business that wants to change the world to build a better brand, or any activist who wants to build a better brand to change the world. They hope it will spark many more revolutions.
So what's the answer?
The secret ingredient behind every successful revolution is simple. They had people on their side. And today, that army can just as easily be mobilised by a business, a charity or an individual.
Starting and spreading that change is easier than ever. If you tremble with indignation, you can ignite that rage in others. But you'll have more chance if you use a brand as your kindling.
Brands don't just attract people toward our supermarket shelves. They turn us into consumers of football clubs, pop stars and, yes, social movements too.
Successful revolutions package an ideal, an identity and an image that those on the inside are proud of and those on the outside covet.
When you want to create a change, start a revolution. When you want to start a revolution, create a brand.
The book
The tactics behind these successful revolutions are clear and replicable. When we look under the bonnet of a well-tuned revolution, we see that they are built around seven basic components.
All explosions of change begin with a fight. And the first chapter will show you how to define just what you will change. Even if you think you have identified your calling, we'll make sure it's the right one.
The following three chapters are all about starting your revolution. We will show how building it around an action will deliver the change you're after. We will develop a rallying cry as the words that act as your statement of intent, and create a symbol that acts as an invitation to participate.
With these foundations in place, you need others to sit up and want to change things too. The final three chapters will show you how to spread your revolution far and wide.
First, we'll catapult it into the public's consciousness with a mindbomb. Then we'll maintain this fame with a constant hum of propaganda. Lastly, we'll show you how to build the allies that will turn goodwill and awareness into change.
In seven chapters, Revolt will help you find each of these components. Full of inspiring examples and practical exercises, it's the owner's manual for aspiring revolutionaries.
Why write it now?
With an age of anger upon us, the world can seem more divided than ever. We wanted to find a way to help people channel that anger into positive action.
We believe there has never been a better time to revolt. A potent cocktail of technology and demographics provides the opportunity to fix the world's to-do list. We have a generation of "can-doers" coming of age, with the internet capable of spreading change faster, further and cheaper than ever before.
The book's summary is left to a man who is tireless in his quest to change the world for the better: "To make change you have to make things – I'm glad they made this gripping book. It's a dazzlingly practical guide to changing the world. An amazing and unique take on protest – at just the moment we all most need it." Richard Curtis, filmmaker, fundraiser and activist.
The details
Revolt is published in June 2017 by TNT. It's available from all good bookshops. For enquires, email hello@startarevolt.com
Angear and Lewis have shown aspiring revolutionaries around the world just how to rally people behind their cause. If you're interested in them speaking at your event, company or conference, email talks@startarevolt.com
Bridget Angear, joint chief strategy officer, AMV BBDO and Alex Lewis, co-founder, Revolt