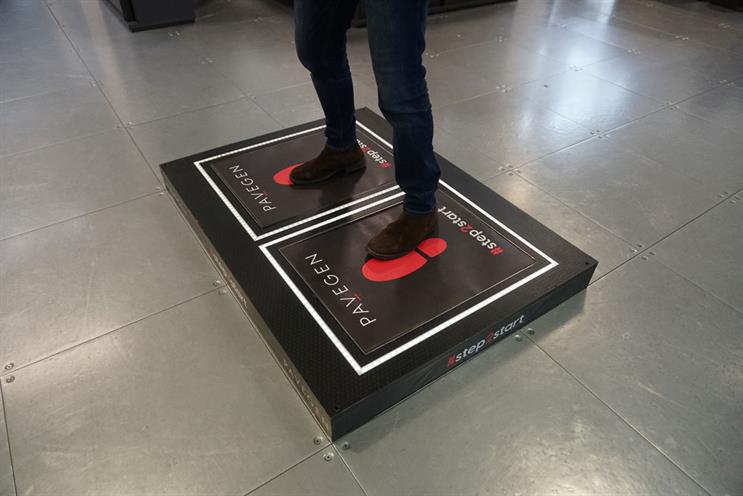 Pavegen has installed its energy generating LED modules within five agencies as part of a marketing drive to promote sustainable energy and the value of getting moving in 2017.
The #Step2Start campaign will see the agencies pitted against each other to see who can generate the most energy by walking or running on Pavegen's energy-generating tiles.
The more energy they produce, the more the digital Christmas pudding on the screen will reduce in size. After the time is up the software will reveal how much energy each individual has produced; with daily totals published on Pavegen's social media channels.
Pavegen creates a flooring technology which converts the kinetic energy and data from consumers' foot-prints into an off-grid and renewable energy source. The start-up, which has worked with brands including Coca-Cola and Nissan, aims to "gamify and redefine the way people view sustainability, allowing audiences to physically engage with clean-technology in a branded context."
Archie Wilkinson, head of Pavegen Live, the experiential arm of Pavegen, said the marketing campaign aims to "inspire people to see their individual impact they can make, encourage a healthy lifestyle and get clients thinking about simple ways to engage and educate their audiences."
The Pavegen concept was developed by chief executive and founder Laurence Kemball-Cook, who developed the concept in 2009 while researching kinetic off-grid energy solutions in environments where low-carbon technologies like solar and wind are not practical.
The units are also available in modular formats for companies to use in experiential and marketing campaigns in order to demonstrate their commitment to innovation, sustainability and corporate social responsibility.