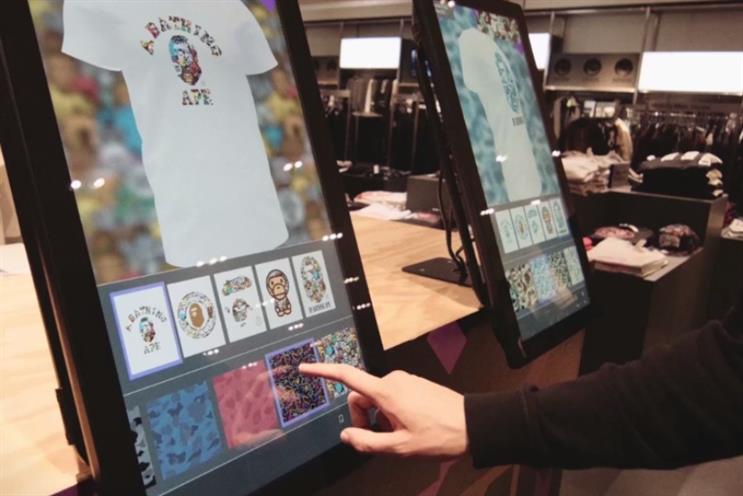 The luxury brand posted across Instagram, Vine and streamed its show yesterday on Asian messaging app Line, giving an increasingly wealthy Chinese audience a glimpse of Burberry's upcoming offerings from afar.
Twitter users could also tweet to the Burberry account during the show to trigger a camera to take a snap from the best vantage point, which was then personalised and tweeted back. And after the show, Burberry customers could buy items from the runway monogrammed with their name and initials.
But while Burberry is often lauded as the innovator among fashion brands, it still maintains a one-to-many broadcast model. Users can watch proceedings from the digital platform of their choice, but they can never have any kind of influence. And in this user-generated world, some believe Burberry might be missing a trick.
A new breed of fashion start-ups is tapping into the millennial urge to influence, choose and create by handing the design process back to the customer.
Knyttan is based at London Fashion Week's headquarters, Somerset House, and offers bespoke knitwear printed before the customer's eyes. Customers can look at a range of patterns by designers, customise them according to taste, then print their items within the hour.
That's disruptive in multiple respects, since it cuts out several processing layers between the designer and the customer. It also caters to the modern customer's need for immediacy, since they might be waiting as little as an hour for their customised design.
It means Knytten could, in theory, offer an unlimited number of designs, since producing items relies on reprogramming its knitting machine, rather than ordering in bulk from a factory in China.
And from a marketing perspective, Knyttan never has to field questions over the quality of its products, since the process is laid open for the consumer.
Speaking at Protein Forum, Knyttan fashion director Kirsty Emery said: "That openness is a marketing asset, and it's how we want to be as a business."
Co-creating with consumers
Knyttan is, at this stage, a small-scale start-up but one academic at the London College of Fashion, Rachel Cosford, believes there might be a time when we might design all our clothes ourselves.
She said: "I believe we will get to a point where you are printing off your clothes, in a print-as-you-go model."
That might sound unfeasible now, but there is already one 3D printer in the works, Mink, that can print make-up.
Co-creation can add value to a brand – it can add loyalty, particularly in fast fashion
Cosford put forward the theory of "co-creation", the idea that customers increasingly see brands as a platform for their own creativity.
Millennials in particular expect a chance to have their two pennies' worth, whether that's in terms of the actual design of a product, or simply leaving feedback on a retailer's website.
Cosford said: "Consumers are no longer passive and they want to have their voices heard. It's an experiential economy. Brands are becoming more open in their innovation processes, too."
She points to 3D printing as a particularly innovative development, since it makes rapid prototyping much easier.
Another fashion start-up that has the co-creation concept at heart is YrStore, which uses innovative print techniques to allow customers to create their own t-shirts. The company started life as a pop-up in Soho, and now has a concession in Topman where customers can choose from a range of designs, then see their t-shirt printed before them.
Also speaking Protein Forum, operations manager Jack Young said YrStore's customers were buying into the experience of creating a t-shirt, as much as the t-shirt itself.
He said: "Consumers value co-created products more, but the quality does need to be good."
Does that mean high-fashion brands such as Burberry will allow its customers to mess with its classic, distinctive tartan? Probably not, according to Cosford, who notes that despite the growing democratisation of fashion, most consumers still want a guiding hand.
She said: "I don't think this will be a mainstream trend – consumers in general are cautious. Most people want safety and won't necessarily want to take over the creative process."
For Cosford, there will be a difference between smaller, niche brands who make co-creation the heart of their business, and retailers such as Topshop who may build it into their wider offering.
She said: "Co-creation can add value to a brand – it can add loyalty, particularly in fast fashion."
---
Recommended