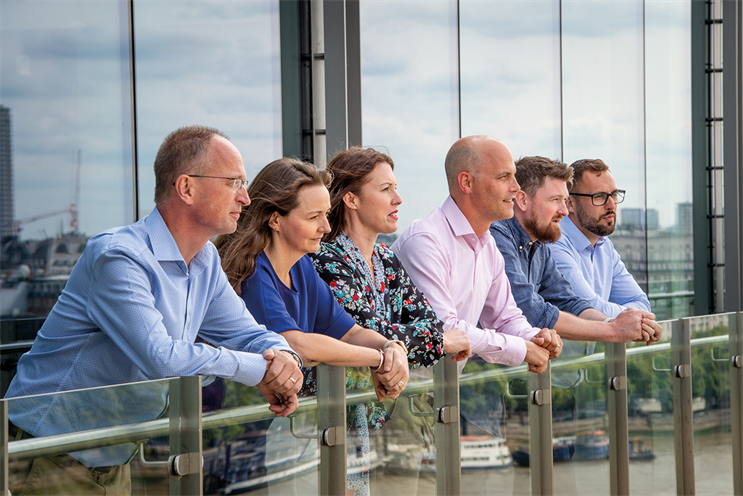 The media industry is in a state of flux, forcing agencies to respond. How are GroupM UK agencies Mindshare, Wavemaker, MediaCom and m/SIX and their datapowered [m]PLATFORM adapting to the new future?
In some instances, advertisers are moving media buying in-house or buying direct from tech platforms. Management consultancies are attempting to cannibalise the traditional agency model. Some clients are cutting costs against a backdrop of economic uncertainty.
Marketers increasingly need agency partners who can help them navigate a tech-led landscape to extract true value from their data.
GroupM solutions include teams embedded in clients' offices; [m]PLATFORM; and investment in addressable TV from Finecast and influencer marketing, among other innovative products and services. Five business leaders from within WPP's GroupM – the UK's biggest media buying and planning organisation – reveal to Campaign how they are responding to the challenges emerging as we approach the century's third decade.
Campaign: How are client demands shifting and how is this forcing your agency to change?
Joanna Lyall: Some of what clients are asking for is what they are not ready for themselves: full transparency in data and fairly priced teams. They also want new services, so the shape of our agency is changing as we hire into new skill sets such as ecommerce.
Jenny Bullis: Things are moving in two directions. One is global consolidation, in terms of decision-making, with fewer people working on a global platform. Then the flip side is that big, global brands are saying a centralised model is too heavy, expensive and slow – so there's a reversal into local-market empowerment. So you have to think about structure: if you want to empower markets to work locally, it makes sense to standardise tech and infrastructure.
Graham Field: What I've seen is slightly contrary to that. The biggest change I've seen is clients not giving us the chance to talk about our technology but the service we can layer on top. The move we've had to make is towards how we apply logic and learning to client tech and how we extract insight from it.
Ben Brown: Clients are desperately thinking: 'We must change.' [There's] so much noise around transparency and tech that they think they must get under the skin of all trust issues and it almost becomes an unwanted silo that detaches from the bigger picture. The thing we are hearing most from clients is the shift from adtech to martech. In the past six months, the big developments in the m/SIX teams have been in moving from media-planning consultants to customer consultants and away from channel selection and touchpoints to multi-touch solutions.
David Fletcher: We have a number of clients asking for the first time for help in organising themselves. We're asked to be the rubber-hits-the-road people. Clients want to take ownership of their contracts and… their tech, but there are all these walled gardens.
Campaign: How do clients benefit from multidisciplined teams working collaboratively with them to use data in new ways? Is this just a way to combat clients taking services in-house? BROWN: In-housing is flawed. Our model is insourcing: embedding our teams, with the right expertise, into the client's office. We save them money and manage the talent rotation, training and expertise and retain agency interaction. So there's more time for work and less time for politics.
Bullis: There's no right or wrong answer. Clients need data, tech and analytics that make their lives easier. Media tech is developing more than anything and, as a group, we benefit from the outside influence of multi-client and multimedia approaches.
Lyall: Mindshare for a long time has had bespoke client teams – you get passion and deep connection, but can miss out on innovation and cross-skills. It's about recognising there's no one solution… and being agile enough to know when to switch it. Clients have reacted to this. We need differentiation, even within GroupM.
Campaign: How are you managing the process of combining smart audience data and responsive media planning and buying with creative work fuelled by data-driven audience insights?
Lyall: We couldn't close the gap for Odeon between the buzz of a film launch and ticket sales. But by helping them migrate all their data and having more control of who is talking and how people are responding, we are now better able to measure effectiveness.
Fletcher: We've been pushing customisation of message. Precision marketing at scale is very difficult. With Butlins, for example, we wrote a script (Google didn't have one) that told us when people were searching for a holiday and it was raining [a sweet spot for Butlins bookings]. That's where the gain is.
Brown: Audience planning. We did this at European level for Toyota. Instead of two 'vanilla' ads across Europe, we had one strategy and thousands of pieces of content. The powerful use of data has really brought everything together.
Campaign: What is the future agency model?
Fletcher: All business models are segmentations. Increasingly, we are moving to an agency of specialists. We are about delivery and a point of view, and clients want us to help organise their thinking. The biggest asset we have as a group is [m]PLATFORM. Identifying new sources of growth has been game-changing and we are only just starting to see that.
Brown: We have more than 200 people embedded in clients' offices worldwide. We've learned a lot and have a real understanding of what clients want. I can't see us working any other way now.
Lyall: We've come from a solid understanding of decision-mapping but the newer piece is being more reactive to what consumers are doing and using data to fuel the agency model. It allows us to spot the new business opportunities.
Field: MediaCom's shift from departments to client groups means we are more flexible and can spend more time with clients. And we have benefits of scale from GroupM. In this room, it's likely we'll have spoken to every vendor, every tech and every data supplier. We have GroupM to consolidate a point of view and innovate, and we can add our own colour where needed. Yes, there are challenges – but we are better set up to cope with them.
Bullis: Media agencies tend to talk ourselves down. We have changed beyond recognition and we are never going back to what we were – only forward.
---
Eleanor Kahn