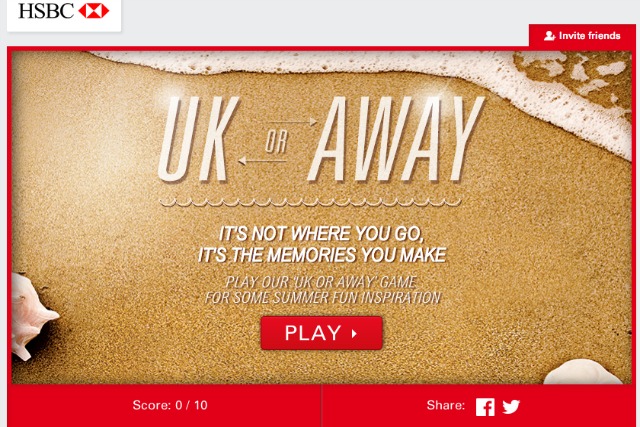 The UK or Away campaign, created by We Are Social, taps into the positivity associated with making memories with friends and family over the summer and aims to inspire people to try new experiences, in the UK or overseas, while raising awareness of the bank's lending options.
Users can take part in an online game to guess whether images of destinations are in the UK or abroad. The game aims to inspire players to think about about the possibility of staycations as well as vacations, with many UK locations comparable to, and as desirable as, their overseas counterparts. At the end of the quiz, users can share their results on Facebook and challenge their friends to beat their score.
Consumers can also enter a competition by uploading their own photo of their favourite summer memory at a UK destination that looks like it could be abroad, or an experience abroad that felt like it was at home. Two entries will be selected at random each Friday until the end of August, with the winners receiving a Panasonic Lumix TZ55 camera.
Posters and lenticular stands promoting the campaign will be displayed in HSBC branches, featuring images of UK or Away destinations, whie digital banner ads will be displayed on HSBC's website.
Emma Ward, social media manager for HSBC, said: "Tapping into the nation's obsession with summer and the increasingly common staycation versus vacation debate, HSBC wanted to take the opportunity to inspire our customers with ideas for new experiences that they can enjoy now, in the UK or abroad.
"We wanted to help people realise that there's a world of experiences out there to enjoy, and that they don't have to be beyond anyone's grasp."