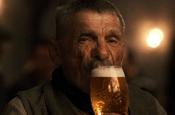 Lowe London and a European TBWA agency are going head-to-head for the brief to create advertising for a lower-strength version of the drink, designed to reverse flagging sales.

The drink, which will have a 4 per cent ABV, is expected to be introduced in the UK later this year.

The winning agency will be briefed to create a campaign to include TV and digital.

It is thought that if the new variant is successful in the UK, it will be launched across Europe while the existing Stella Artois, which has a 5.2 per cent ABV, will be relaunched as a super-strength brand.

InBev has been desperate to move Stella away from its "wife beater" nickname and the image that goes along with it for years.

In 2006, it relaunched the brand as part of the Artois Family, which also includes the 4 per cent Peeterman Artois and the 6.2 per cent dark beer, Artois Bock.

Last year, it also scrapped the "reassuringly expensive" line, launched in 1982, from its advertising.
For the year ending March 2008, sales of the Stella brand, which includes Peeterman and Bock, fell by almost 1 per cent to 491 million pints in supermarkets and off-licences, according to AC Nielsen.

InBev is embroiled in a messy bid for Anheuser-Busch after making $46 billion bid for the company last week.

However, Anheuser has filed a lawsuit against InBev saying the bid is an "illegal scheme" to defraud shareholders.